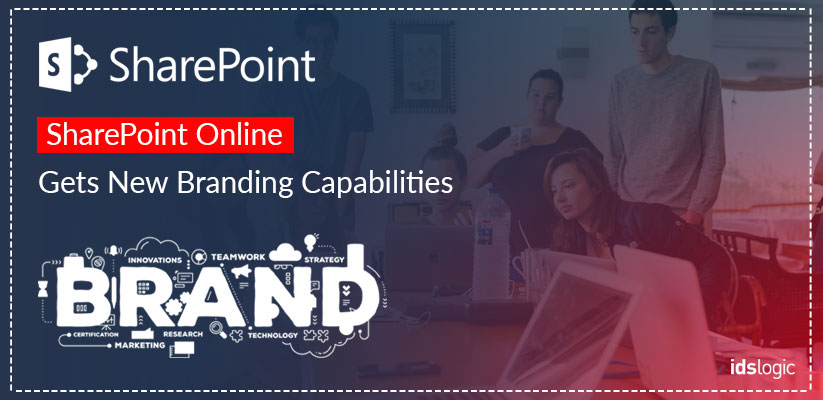 SharePoint Online Gets New Branding Capabilities: A Look at The Features
SharePoint developers always enjoyed the immense flexibility in designing their intranet sites and this helped them to create branding around their unique websites. If you are looking for better branding opportunity, then SharePoint branding is one aspect that can help you. Recently it has seen many visible improvements in the latest version.
Since a company's brand identity is the most important thing for both internal and external users, employees are exposed to flyers, letterheads, posters, business cards having their company logos. So, it is not surprising that the intranet site that interacts with the corporate content should also resemble the company colors and branding.
SharePoint administrators can now effectively engage with the marketing team and ensure that the collaboration platform reflects their brand internally.
Here are Some Key Features and Useful Upgrades that SharePoint Branding Offers:
Navigation with Shared Themes for Grouped Sites:  
Microsoft has announced new SharePoint Hub Sites and this feature enables the administrators to organize their related websites under one site, thereby allowing them to maintain SharePoint branding with common look and feel across all the related sites.
It is by enforcing a common theme that more adherences to standardized company branding can be maintained across their intranet.
---
Unique Design Options for their Administrators:
SharePoint development had limited unique themes in their earlier versions and so developers had to build their own look and feel to make the essential adjustments to meet their own brand identity. Smaller organizations that did not have web designers in-house had to settle for basic themes.
Microsoft has come up with new themes for their SharePoint online platform, which will offer customization around the color themes and site layouts.
---
Are You Looking for SharePoint Migration and Upgrade?
Site Templates Offer Modern Web Experiences: 
With the News and Communication site templates, Microsoft has offered its customers with the ability to select from the new site layouts that offer improvement from out of the box templates. These new layouts include mobile friendly page layout that helps the visitors to interact easily with the responsive web pages via their mobile devices.
The communication template also includes the tiles that can easily be customized and allows a better and improved user experience.
---
Advanced Custom Themes and Design Tools:
SharePoint administrators who feel restricted by the limitations on the online theme selection tools are now introduced to the SharePoint Theme Builder. With this, even developers can now create advanced themes to fine tune the site's look and feel to meet their SharePoint branding requirements.
Companies can now ask their developers to create custom layouts with unique visuals and interactive experiences and relevant color backgrounds.
Also Read: How to Use PowerApps to Go Mobile with SharePoint
---
Customized Themes for Mobile Experiences:
The reality is that end users are no more accessing SharePoint resources from just their desktops. They are now interacting with the site from various mobile devices even on the go. As a result, it is very important to maintain a consistent user experience across various platforms and devices.
Microsoft has announced its support for Microsoft PowerApps as a means to ensure that the site containing the data will have the same look and feel across those workloads. This clearly indicates that PowerApps play a vital role and SharePoint administrators can now easily maintain their company brand even on the mobile view of their intranet
Also Read: SharePoint Online Gets New Branding Capabilities: A Look at The Features