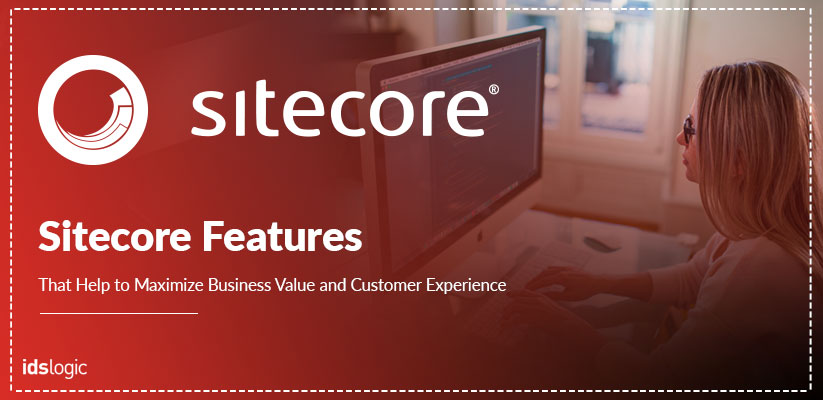 Sitecore Features That Help to Maximize Business Value and Customer Experience
Managing your website content and delivering it to your customers across varied channels requires efficient handling by the publishers or content managers. And this has always been the basic objective of implementing a CMS so that it helps in creating, optimizing and managing the customer's digital experience.
A good CMS is a software application that enables the users to easily collaborate, create, edit and manage digital content that includes web pages, blog posts, articles and etc.
Sitecore is a leading web content management tool and is also a dynamic marketing tools that allows the marketers to extract deep insights from the web traffic and multichannel customer experience so as to properly predict the type of information that needs to be delivered to the customers next.
It offers a great experience to the customers across varied devices while complying with the changing privacy regulations, corporate policies and governmental accessibility.
How Was Web Content Managed in the Past?
Once the website was developed and content populated in it, enterprises often tried to explore ways to make their site stand apart. Smart organizations focused on delivering high quality web content that helped them to increase the search engine rankings and also increase the conversion rates.
"Good content often helped to create a positive impression on the buying decisions of the customers, but enterprises often found it a very challenging task to manage the website content frequently."
It is here, that Sitecore becomes the preferred CMS for enterprises because of its rich features to create, publish and promote web content.
---
Sitecore Advantages that Make it so Popular:
Sitecore offers an array of features that help to improve the customer relationship and brand experience
It is Developed on ASP.NET:
Sitecore is a robust framework that is developed on ASP.NET and comes with features that simplify and accelerate the development of the site. ASP.Net allows the developers to draw high traffic and complex applications without having to write additional codes.
Related Blog: How Sitecore CMS Helps Business Owners Maximize Web Conversion
---
Maintain a Consistent Look and Feel on Varying Devices:
Users often access their favorite websites and applications from a wide range of devices. So, the developers have to explore various ways so that the site looks good on both the computers and mobile devices.
Sitecore development makes this easier for the programmers by offering customization features for content formatting as per the size and orientation of the device.
Sitecore is named as the leader in 2019 Magic Quadrant for Digital Experience Platforms as it successfully delivers on the promise of a DXP with capabilities that include:
·  Versatile digital marketing
·  Collection of real time audience data
·  Smart personalization to generate real time actionable insights
·  Delivering engagements across web, mobile, social, IoT, AR and VR
---
Allows Content Sharing and Easy Management:
Web developers can now easily take advantage of Sitecore Web Experience Manager to create multilingual websites without spending any extra time and effort. Once the web content is written in the native language, WXM helps to translate it into multiple languages by integrating any translation services and handling the workflow.
Are You Looking for Sitecore Development Solutions?
Sitecore development allows the developers to keep the UX consistent by sharing and reusing the same content across various sites.
---
Optimizes the Site for Mobile Devices:
Nowadays, most people access websites or any application through their mobile devices. Hence the web developers can now focus more on the mobile experience and Sitecore CMS offers features to optimize the content for the mobile devices.
Its device detection module helps to detect the device that the user is using and the geo IP detection package helps to personalize the content according to the location of the user.
In the past few months, Sitecore has made some dramatic shifts that include Azure deployment, new executive leadership, return to midmarket focus, acquisition of digital asset management provider and partnership with Salesforce Marketing Cloud.
---