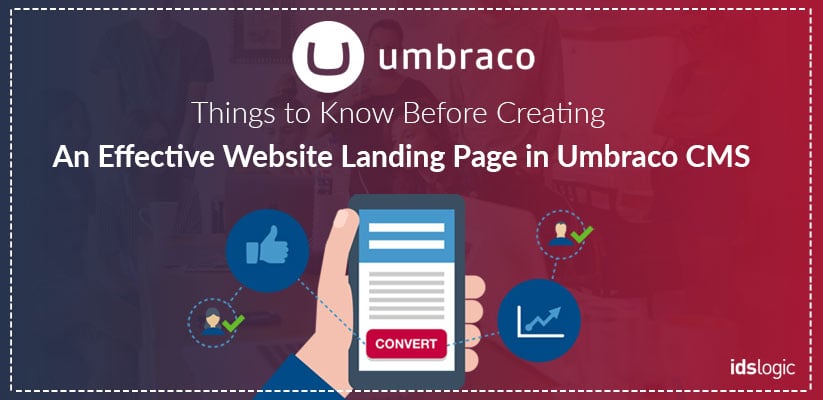 Things to Know Before Creating an Effective Website Landing Page in Umbraco CMS
With people becoming more and more technology oriented, there is no doubt that the users and also the search engines are expecting more from the website owners.
Most business owners put a lot of effort in creating attractive landing pages since it attracts a lot of traffic from the paid ads, referral traffic from backlinks and also from email marketing campaigns and social platforms.
Thankfully, you can create informative and engaging landing pages with Umbraco CMS, which is a leading open source Microsoft ASP.Net platform.
Creating a Landing Page with Umbraco CMS:  Getting Started
Umbraco development offers a wide range of features that help to create an incredibly easy and exciting landing page, but before you start to create it for your products, or offers or services, you need to understand a few things about why you are creating this landing page and the reason why visitors will consider your web page.
So, take a step back and consider your marketing team and create a page that aligns seamlessly with your business goals as well as your audience needs.
---
Know Your Goals:
The basic reason why you are creating a landing page is because you have an offer in hand and you want to create a targeted page that can send the message about the offer. There are basically three types of content that you can create and they are:
Informational

: This is the content that is focused on telling the user more about the features or the benefits of purchasing a product or a service.
Transactional: This is the content that is focused on inspiring the prospects to take a specific action like making a purchase or filling a form.
Navigational: This is the content that is focused on telling the user or potential prospects more about the business and also its capabilities.
Are You Looking for Umbraco Development Solutions?
---
Know Your Audience:
Once you have decided your business goals and offers that can help you to attain your objectives, you can decide on who your target audience should be.
This is a critical step and Umbraco development company operating from India or the U.K. can help you analyze your market and identify your target audience and their needs. Your audience's behavior, their pain points can help you to address their issues with your products or services.
---
Know Your Competition and What You Should Offer:
Users often find it very frustrating when they come to a landing page and cannot find what the company has to offer.  So while writing the content for your Umbraco website landing page, make sure that you write content while mentioning the things that you have to offer and what action you want them to take.
Related Blog: The New and Exciting Features in Umbraco V8 That Offers a Better Experience
Also take some time to do research for your competitors landing pages and the offers that they are giving to their users.
---
How Umbraco CMS can Help?
Umbraco development uses the grid layout system, which allows the user to easily prioritize the content and create the layouts that are responsive to any devices.
Umbraco also allows you to drag elements like text, image, video and etc. and add colors, and styling to the landing pages so that it suits your brand.