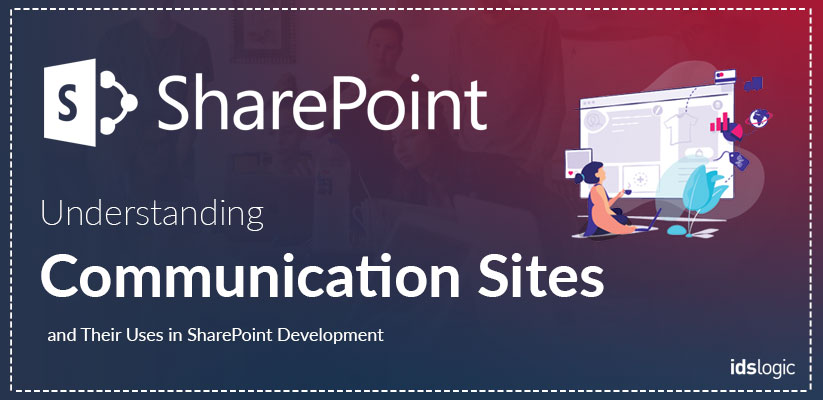 Understanding Communication Sites and Their Uses in SharePoint Development
Being able to properly communicate with the audience using attractive and functional sites and pages is the key aim of organization intranets.
Microsoft SharePoint is designed to collaborate and share information to the other teams of the organization effectively.
"Since communication plays a great role in the success of a business, communication sites offer the same purpose like traditional publishing sites while maintaining a level of control on the creation side."
SharePoint Communication Site: What is It?
A SharePoint communication site is a place that helps to share information with others and offers a simple and fast means to set pages for internal communication using content blocks from varied sources.
You can easily share news, statuses, reports and other information in a compelling format.
Basically, it helps business owners in India, UK, US, Australia and etc. to create a site collection that is well adapted to mobile and can display information in a dynamic manner.
---
What Does a SharePoint Communication Site Include?
When you start to create a communication site using SharePoint development, you can just start it with a blank site or even choose a site design, each of which comes with a set of web parts by default. The options that are available include:
Topic:  When you choose a specific Topic design, you get the home page that has several web parts which are ready for customization. The web parts that are included by default on the communication site using the Topic design are Hero, News, Events, Documents.
---
Showcase: This design comes with a home page having various web parts, all set for customization. The web parts include by default Hero and Image Gallery that shares collection of pictures on a page.
---
Blank:  When you use a blank communication site, you don't have to remove the web parts that you don't require. You can simply choose the page layout and add the required web parts.
Are You Looking for SharePoint Migration and Upgrade?
---
When Should You Create a Communication Site in SharePoint?
Your intent and desired business outcomes should be the main reason behind choosing a Team site or a Communication site.
"If you want to create a site where your members or work group or project team can easily collaborate for project deliverables, then a Team site is ideal for you. But if you want to broadcast a message or share content or tell a story, then a communication site is better."
Communication sites are great means to showcase the services that you offer or anything about a new product launch.

---
Some Communication Site Scenarios:
Creating micro sites for any new corporate initiative

Organization achievements: creating summary or reports to highlight key business metrics

Product or service related information for the sales team

Publishing guidelines about corporate processes

Procedures and company policies

Training and governance for the intranet
Communication site is no doubt a positive development for all the SharePoint users out there. With it, even non-programmers can create attractive and interactive web pages with content from varied sources.
Also Read: Reasons Why I Prefer to Use SharePoint Out of the Box Features for My Projects