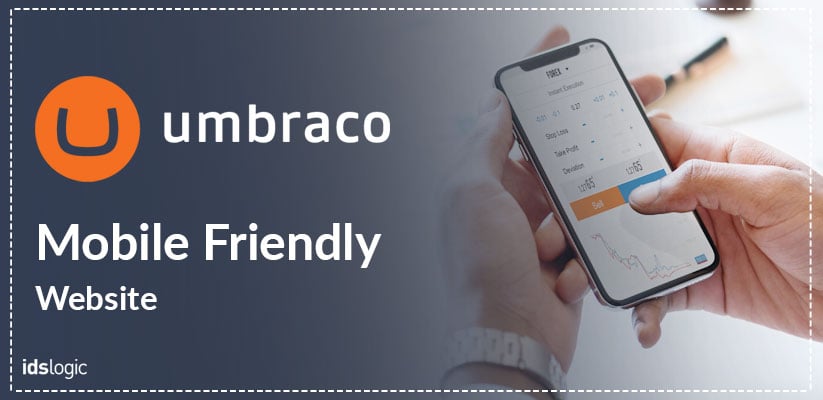 An Easier Approach to Making Your Umbraco Website Mobile Friendly
With the dawn of mobile devices and its increasing usability to browse the net, it has become important to create a mobile friendly website if you want to remain ahead of the market competition. With this trend gaining much popularity, tons of companies raced to make their site mobile friendly.
Both the users and the search engines have high expectations from the website owners to provide mobile friendly experience and that too for good reasons.
In the past few years the percentage of website visits from a mobile device rose from 57% to 63% and the time spent on sites via mobile devices rose from 40% to 49%.
Even search engines prefer a website that is mobile friendly and gives preferences in indexing and ranking. Umbraco CMS is a popular platform offering a lot of features that are needed to develop a mobile friendly website.
Here in this blog, I will discuss with you how you can make your Umbraco website more mobile friendly and offer a highly optimized user experience.
Choose to Use the Power of the GRID for a Mobile Friendly Umbraco Website
Umbraco developers in India can use one of the important features of the Umbraco CMS to create clean, responsive website pages by using the grid layout system. This allows the users to prioritize the content and create the layouts quickly that are responsive and uniform for all the devices that they are being viewed on.
In order to this, you can simply click the elements in the Umbraco backend and then choose the element types like the image, text, video, form and etc. and add.
Are You Looking for Umbraco Development Solutions?
You will be able to drag the element to any place where you want them to be visible on the web page, add styles or colors that suits your brand without having to wait for technical help.
---
Does speed play a major role in making your Umbraco site mobile friendly?
When it is about mobile, speed plays a great role in it.  Visitors are not willing to wait for more than a few seconds for the site to upload. If it takes a longer time, then the chances are high that the bounce rate of your site will increase.
So it's crucial that your website visitors are delivered relevant content at the earliest so that they don't search for other options.  And for this you have to speed up your website performance.
Also Read: Things to Know Before Creating an Effective Website Landing Page in Umbraco CMS
Make sure that you are reducing your codes, using the benefits of AMP, making use of browser caching and reducing the redirects. To make sure that you have really improved the site speed for your mobile, you can check Google PageSpeed Insights too.
---
Should you create separate desktop and mobile websites?
One common question that most Umbraco web developers and digital marketers ask is if they need to create separate sites for desktop and mobile.
We would suggest a big NO!
When it is about Umbraco CMS, we have already discussed about the grid editor, and it is ensured that your site is responsive and can be accessed and viewed from any device. So there is no need to develop separate sites as your site offers a consistent view from any devices that is used to access it.
A thorough testing of your site is very important
When it is about making your site mobile friendly, you should look for a better user experience. So, make sure that you have thoroughly tested the layouts, colors, buttons, font sizes and etc.
All your assets should render properly on various devices and in case the items aren't, then it would obviously lower the engagements from the users causing them not to take any actions like either purchasing a product or services or contacting you or even leading the website.
Still not sure how to make your Umbraco website mobile friendly?
Our Umbraco developers at IDS Logic have more than 12 years of experience and have worked on various Umbraco projects.
If you have a doubt about how your website is performing on mobile devices, then we can help your site to meet the best mobile practices and get it optimized for the search engines.