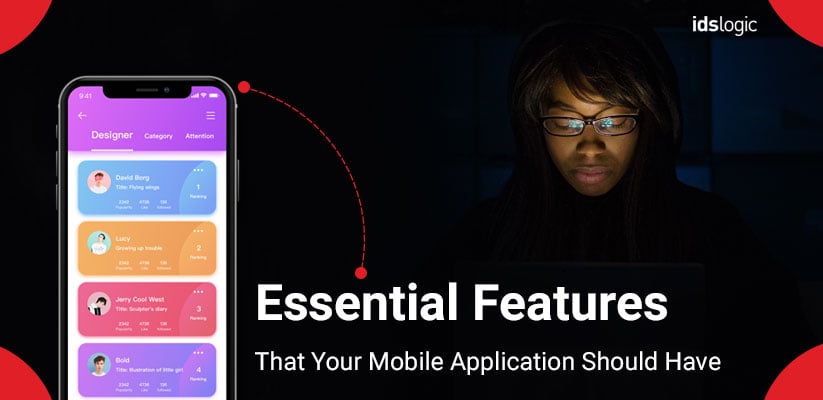 Essential Features That Your Mobile Application Should Have
To remain competitive in the market, every business should ensure a mobile presence. And this presence starts with creating your regular site into a responsive and mobile optimized app.
Once you have received the green signal to proceed, it's time to speak to mobile app development companies so that you can have a rough idea about the costing, features to be included in the app and also the timeframe that the project will need to complete.
With the software market flooded with various mobile applications, it is very difficult to survive the cutthroat competition if you don't have anything really interesting in your mobile app for your users.  So to grab their attention, you have to choose the features carefully so that they are not too intricate to handle.  
Here in this blog, I will discuss some of the most important features and design elements that will help you to make the difference.
User Experience
"Offering a Rich User Experience is the First Feature You Need to Consider"
Design plays a vital role in mobile app development since it is going to be downloaded and accessed frequently, but often business owners think that they need an app just because their competitors are doing it.
But if you are not sure about your needs of an app, then you are likely to end up with a mobile browsing experience in an app. Such experiences are just a waste of both resources and money.
Your mobile app development should always provide utility or value to the users and this comes in various forms like entertainment value, any solution to a problem or any other efficiencies for tasks that are performed often.
Also Read: How to Identify User Pain Points While Developing a Mobile App
---
Social Integration: 
"This helps you to Share information and keep visitors engaged"
This is another essential feature that brands should include in their mobile apps as it helps them to connect with the consumers within the application ecosystem. Integrating various social channels also simplifies the signing up process as it can easily retrieve the information from the channel.
Social media also helps to share any posts or information about the brand with the users and this helps to keep them engaged with the app. Your mobile app development partner in India can help you to integrate the social channels as per needs.
---
Customization and Personalization:
"Helps to attract visitors and offer a great user experience"
Your mobile app should have a layout that can be easily customized so that their experience can be easily tailored to meet specific business needs. With customization, the items can be easily moved around the interface as per the user's taste and the visual designs can also be altered.
Brands should always search for means to make user experience more personal and in order to stand apart in the crowded mobile app competition, it is important to put some personalization that is based on factors that include demographics, behavior of the users or the user's current location.
Are You Looking for Dedicated Mobile App Developers?
---
Security:
"This is core to mobile apps"
Another most important feature that you should consider is the security needed to protect confidential or personal data. Security improvements should always be added to the app so as to keep the data private and secure. This helps to improve the trust factor of the mobile app.
---
Less Keyboarding and More Touch:
"Makes it easy to use even on the go"
Users who are in search of information during travel always look for easy means that can help them access your website. When you ask lots of information and they have to type and type, it frustrates them and they are likely to leave your mobile app.
Since users prefer to use touch, your design of the app should make minimal use of the keyboard and make use of touch base as much as possible.
---
Search Feature: 
It is very important for your mobile app to offer the users a handy search bar so that they can easily get the content that they need. Lots of relevant content often makes a great act, but that content should be easily accessible to the users.
Most top tier apps always feature a search function that allows the users to locate the content through key phrases or keywords relevant to what they require.
Thus, you can see, that a lot goes into developing a super mobile app that the users adore and we at IDS Logic have years of experience to develop feature rich apps for our customers.
Also Read: Need to Engage More Users for Your Mobile App? Here Is What You Should Do
---