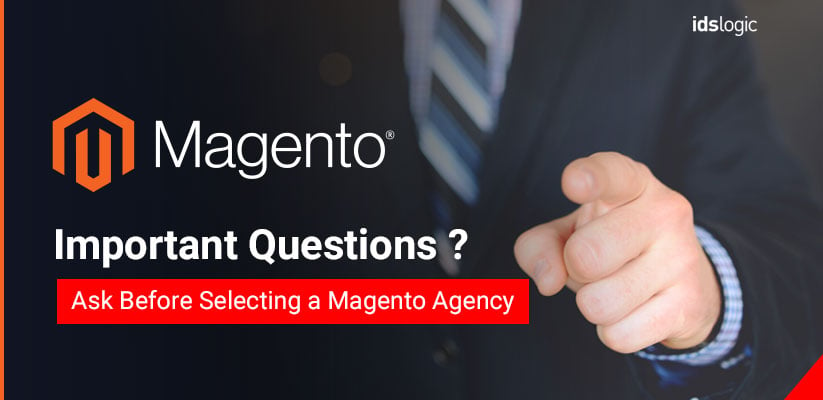 Important Questions Every Merchant Should Ask Before Selecting a Magento Agency
With the advancements of technology and internet, more and more business owners are turning to online business for a variety of purposes. And any business interested in selling their products or services online has to create an ecommerce store that is perfect in design and offers user friendly features that helps to engage the visitors easily. 
Whether you are a startup business owner or an established one, the right ecommerce platform brings success to any online venture.
Magento 2 is certainly one of the smartest and most appreciated ecommerce platforms that helps to enhance the brand's visibility, sales and revenues. But finding the right Magento development agency can be a tedious task as the market is crammed with thousands of companies that can deceive you at any stage.
To hire a remote Magento agency in India for your next ecommerce project, here I have mentioned some questions that you need to ask before finalizing.
What is the Size of Your Magento Development Agency?
Choosing a full service firm is a good choice, but they should have great Magento expertise. Ask your Magento company about the size of their team and whether they offer the option of hiring a dedicated team that is made of certified and experienced Magento professionals. You can also check the certifications and they are:
Certified developer

Front end developer certification

Magento certified solution specialist

Developer plus
Based on your project needs, you can hire the team with adequate certifications as the developers will strictly adhere to code standards during the development process and this will help your project run smoothly post launch without the hindrance of bugs.
Also Read: Migrating from Magento 1 To Magento 2? Know How to Boost Your Web Performance
---
Is the Agency a One Stop Shop for All Your Magento needs?
Selecting a full service Magento agency is important because it will offer end to end design, development, deployment, maintenance and support services.
If they have a team of experts who can handle diverse roles, then running your site will be easy as it will drastically bring down the inefficiencies and delays that company with limited service offers would be prone to.  So, ensure that the firm that you are hiring offers a wide range of Magento services.
---
Can You Show Some of Your Magento B2B Commerce Achievements?
This is like asking any candidate about their past achievements during an interview process. Choosing a company that has helped many clients overcome critical challenges with their development services is the best option for long term benefits.
Are You Ready to Migrate Your Store to Magento 2?
A company that doesn't have much to talk about its client and cannot demonstrate the list of challenges that they have solved is not an ideal option to go with. In fact, the best means is to check their website for case studies where you can find a lot of information that you actually need.
---
What is the Development Process that You Follow?
This is another very important question that your Magento development agency should be able to answer.  Agile approach is usually the best for project management because it delivers the benefits like:
Reduced project risk

Better project control

Faster ROI

Continuous testing

Stable releases
Agile methodology always ensures that your project turnaround time is low and so you should select an agency that follows the agile process.
IDS Logic is a leading Magento development agency with years of experience in offering services to clients across the globe.  Our team of experts can help you with ecommerce development project that will not only help your business grow, but also generate higher revenues from your investments.
Also Read: Essential Guide to Customer Segmentation for Your Magento Ecommerce Store
---