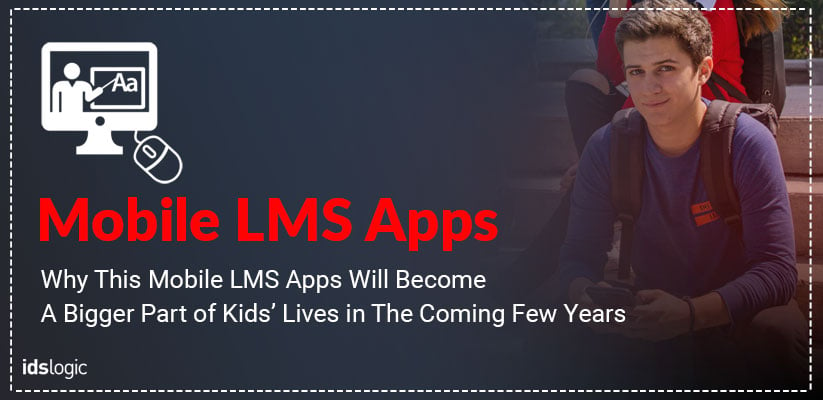 Why Mobile LMS Apps Will Become a Bigger Part of Kids' Lives in The Coming Few Years
Electronic learning management system is highly used in academic organizations to deliver and share contents among the students. But this is okay for higher education.
What about young kids? Is there any scope to use m-LMS development to provide them the flexibility of accessing and managing their activities from anywhere and anytime? 
LMS when integrated with mobile app functions allows many related multimedia documents like images, audio, video and etc. to be used effectively.
Experimental results that are obtained from surveys have stated that m-LMS is able to offer a better environment to the learners, which leads to a deeper level of learning engagement.
Easy Communication with Teachers:
Though educational apps are not considered as a substitute for classroom teaching, yet they serve to add a lot to conventional teaching techniques.
With these learning apps, young learners can easily communicate with teachers or mentors by instant messaging, emails or SMSs. This helps them to resolve the queries and any doubts without wasting much of their time.
---
Portability:
Mobile learning apps are often free and can be used from any location all over the globe. Learning apps for kids have emerged to be great travel companions for kids and especially during a long flight or train journeys.


During such schedules, students don't have to stay away from learning and can fully utilize their free time.
---
Wider Geographic Reach:
Mobile LMS applications can cover about 90% of the total population by creating a platform that increases the availability of education.
More and more students can come to the same platform and have discussions about their projects, share ideas and complete assignments by overcoming the time and space constraints of traditional classroom environments.
---
Enhanced Parent Teacher Communication:
When it comes to kids learning, proper parent teacher communication is very important. With traditional means of learning, there are times when parents find it difficult to attend PTMs and are unable to know the development of their wards.
Are You Looking for LMS Development Services?
But with mobile LMS learning the communication between parent teacher becomes easier and it also facilitates the teachers to respond to the queries of the parents regarding the progress of their ward. This helps to maintain the transparency in the academic sector.
---
Use of Data and Analytics to Benchmark Student's Performance:
Most education systems compare the performance of their students against local or national standards.
But with mobile LMS apps, you can now have the ability to track the student's performance across multiple parameters like a subject or a student's history, and this provides a far richer assessment of the kid's performance.
---
Our Contributions:
IDS Logic is a leading mobile app development company operating from its offices in the UK and India, having more than 11 years of experience in creating learning apps and using LMS solutions for varied sectors and segments.
We help you to create learning mobile apps that meet your child's needs and motivate happy learning.
"Magento is currently powering 28% of internet sites with 16% of the top sites using it as the preferred ecommerce platform."

Also Read: Important Design Strategies You Should Incorporate in Moodle Course