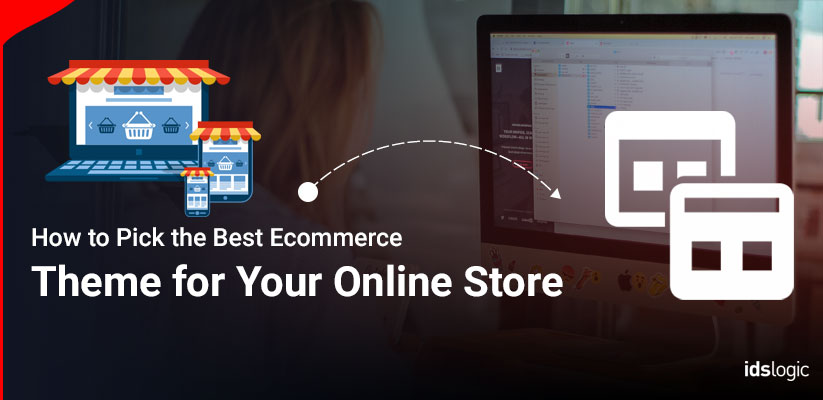 How to Pick the Best Ecommerce Theme for Your Online Store
We often say that "Don't judge a book by its cover"  This is a popular adage, and in most cases of our life, we believe it to be a good mantra.
But when it is about online business, the overall look and feel of the site matters a lot and it plays a great role in how the visitors perceive your business. Visitors do often judge the store by its theme.
Having worked with various ecommerce clients from various sectors, I have especially gathered enough knowledge on
How to Choose the Best Theme for Your Ecommerce Development
Today, I will share my experience with you so that your products and services can shine in the light that they deserve.
Understanding the Importance of a Perfect Ecommerce Theme:

Getting your online customers to make a purchase from your site requires proper planning. It is very important to tempt your visitors to look around for more, to stay longer on the site and most importantly make a purchase.
You must be wondering as to why the theme matters so much for your ecommerce store.  Do visitors really care about the designs and the colors on your site?
Visuals are always more powerful than words, and to reach effectively to your audience, visual communication needs to be very strong.
The theme and layout of your online store encapsulate your brand image and it is a visual representation of your business and everything that your services stand for. Generally speaking, ecommerce websites that have a strong theme to present are more intuitive for first time users.
---
How to Select the Best Ecommerce Theme?
Look for Something that is Visually Appealing:
When it comes to ecommerce websites, the adage- "First impression is the last impression" is very much applicable for ecommerce customers. A well designed website would often experience reduced bounce rates and the visitors would also come back for more.
Themes have great power to cast a spell on the visitors, so it is very important to choose a theme keeping in mind the professional look and feel so that it offers the right representation of your ecommerce store.
Also Read: Top Social Media Tactics to Boost Traffic to Your Magento Ecommerce Site
---
 You should be Able to Customize the Theme as per Your Needs:
One of the most vital factors while choosing your Ecommerce development theme is to check whether the theme is customizable or not. Ecommerce is business that is subject to quick expansion even in the shortest time period. 
So, while choosing the theme you should select something that is advanced and offers additional features to support your business.
Are You Looking for Ecommerce Development Solutions?
---
 Trendy Look: 
Choose a theme that offers a trendy look as it will work well with the audience and especially with the younger visitors. Try to choose an ecommerce theme that will cover a wide range of audience and can create a great impression on them.
A trendy theme will have a popular and good rating and this indicates that they have great features to present your website in a better manner.

---
 Possible Options for Banner and Slides:
Banners and ads are core to ecommerce websites. So, while choosing your ecommerce development theme, make sure you can add promotional banners and slides that can attract the audience and also retain the visitors on the site.
Your theme should support all these features that can enhance the marketing prospects in a very limited time period.