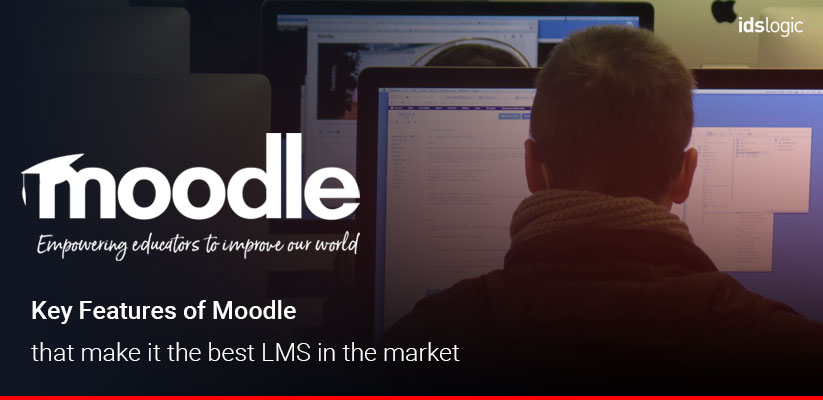 Key features of Moodle that make it the best LMS in the market
The elearning market is full of various LMS each showcasing different features and claiming to be the best LMS solution. But none of them have bothered Moodle's popularity till today. And this is because of the continuous addition of features in the Moodle core making it more and more robust and user friendly.
Let's Go Through Some of the Features which Makes Moodle Different from Other LMS
Gamification

Analytics

eCommerce

Social Learning

Adaptive learning

mLearning
Gamification
Gamification is the talk of the town in today's elearning industry. Every other guy would be talking about implementing gamification in their LMS to increase learning engagement. So, Moodle isn't untouched with this talk and there are a number of plugins for achieving learning through gamification.
Games such as hangman, Crossword, Cryptex, Millionaire, The Hidden Picture, Snakes and Ladders etc., can be included to induce recollection of content delivered.
Gamification mechanics such as points, challenges, badges, achievements, leaderboards, levels, timers, stories and characters, freedom to fail (lives/chances), and badges can also be achieved through various Moodle plugins.
Analytics
Moodle analytics allow you to track compliance, course completions, and competencies, which is valuable when considering employees for promotions or succession planning in general.
Apart from basic tracking, Moodle analytics offer a description of learning engagement and progress, a diagnosis of learning engagement and progress, plus a prediction of the learning progress.
With a set of student engagement indicators, it is possible to provide proactive notifications to administrators who can easily communicate to learners identified by the model, or jump to the report for that student for more detail about his/her activity.
eCommerce
It's very clear that Moodle is a Learning Management System and not an ecommerce system and ecommerce is of no use if you are using Moodle for your internal training.
But what if you decide later to sell your courses? Don't worry, you don't have to put your head down either.
You can sell courses with plugins available for payment gateways and auto enrolment etc.
Are You Looking to Develop Your Own Course?
Social Learning
A course includes topics that learners engage in, take assessments, collaborate, etc. and then move on to a new topic. Yeah, that's boring. But it is just a choice, and most of them are stuck with this choice, unfortunately, and then Moodle takes the grudge of being boring.
What people do not realize is that Moodle offers customization that can allow an interface similar to popular social tools with a timeline of posts, filtering of the timeline, and integration with the learner's activities and resources.
It can include easy-to-distinguish pieces of information that quickly provide context and a call to action such as comments, likes or votes. That's a cool way to learn online, isn't it?
Also Read: Top Moodle LMS Themes That You Should Choose in 2019
Adaptive Learning
Adaptive learning is the shoptalk today among LMS providers offering customized solutions to teach students through a systematic approach by increasing difficulty level of tests. But one should understand that this can't be achieved only by customizing the core code or using plugins.
Without an instructional course design, this is hard to achieve. Instructional Design can be achieved for adaptive learning through flexible course creation features like activity access restrictions, course completion conditions, lesson activity using branches/clusters, quiz adaptability etc.
Remember, if your course content is not adaptable, then no LMS can make the learning adaptable. So wake up your Instructional Designers and ask them to create adaptive course content so that adaptive learning doesn't get restricted only to proprietary LMS providers.
mLearning
Moodle has its official mobile app, which can be used to browse the courses, even when offline, receive instant notifications of messages and other events, track learning progress, and much more. The mobile app is also customizable like the desktop version and delivers state-of-the-art learning features anytime, anywhere.
But again, does any content viewed on a mobile app qualify for mLearning? Of course not! mLearning requires specific design principles to be applied during the content design stage so that the content can be delivered through mobile apps and still not feel overwhelming.
Conclusion
To conclude there are a lot of features in Moodle, which not only makes it the most suitable LMS in the market, but also makes it stand out and offer a solution free of cost as it is offered as an open source.
Also Read: Top 10 Free Moodle Themes to Make your Moodle Appear Elegant
Contributed By:
Surendra Prasad