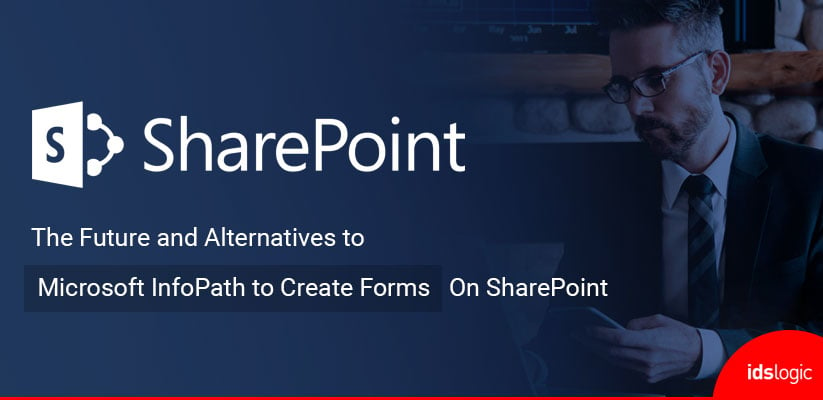 The Future and Alternatives to Microsoft InfoPath to Create Forms On SharePoint
Infopath and SharePoint Designer are two primary products that have been extremely popular and have helped to expand the SharePoint platform within many organizations by offering IT Pros and users the ability to create electronic forms and workflows.
Though SharePoint Server 2019 will still continue to offer its services to both the technologies, Microsoft has ceased to invest in them, with the mainstream support ending on July 2021 and extended support ending in mid July 2026.
Here in this blog, I will try to give a better overview of InfoPath and its relation with SharePoint development.
What is Microsoft InfoPath?
Released as a part of Microsoft Office 2003, InfoPath has made it quite easy for the non-developers to design electronic forms by using a WYSIWYG form designer, linking it to structured data in SharePoint.
By managing forms from a central location, users can now easily streamline their business processes and also improve their relations with partners, customers and suppliers.
InfoPath enables you to publish the form templates that you have designed from a common location across the organization and the users can also submit it to SharePoint libraries.
---
Should You Continue to Use InfoPath with SharePoint Development?
A few years back, Microsoft had announced that they were no longer going to offer support for InfoPath in 2023.
During the announcement, Microsoft also stated that they were investing in some new forms technology across Access, Word and SharePoint. This decision was taken because of the customer's dissatisfaction with the tools.
Issues like the forms stored in XML format that has HTML rendering challenges, improper functioning of the mobile version and etc. became the core reason to discontinue. The tool also failed to offer integrated forms experience.
Are You Looking to Hire Dedicated SharePoint Developers?
---
Should You look for Other Alternatives or Possibilities?
If InfoPath is Gone for SharePoint Collaboration Tool, then What will the Users Do who are Using it?
So, if you are starting a new project and you have in-house developers who know how to create web forms, then the best scenario is to create by using HTML, some JavaScript, CSS and develop the best experience forms that are responsive or touch enabled. 
But in case you don't have such a backup, then using InfoPath with SharePoint development is okay as Microsoft will offer support in SharePoint 2016 till the year 2023.

---
What are Some of the Best Alternatives?
Custom .Net Forms:
Forms that are created using Visual Studio offer a lot of flexibility and options. You can add anything and the form can also work with many other technologies. It is an extensible tool, but one negative aspect is that these can be difficult to maintain.
---
Spreadsheet Forms: 
Excel worksheets can be used to store forms that can be developed in One Drive. This is an excellent alternative as it is easy to use, visualize and transform. But one major drawback is that these forms are not mobile friendly.
---
Access Online Apps Forms:
These can be used where Access Apps are the database. The data is stored in SQL server. Access is used to build independent apps, the forms are easy to use and offers a wide range of data table templates.
Also Read: SharePoint Home Sites: A Personalized Intranet Solution for Intelligent Workplace