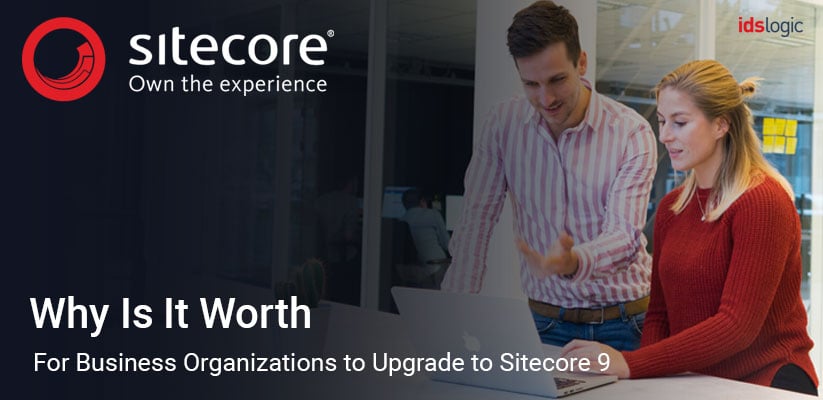 Why Is It Worth for Business Organizations to Upgrade to Sitecore 9 Development
Sitecore has gained much publicity with the latest version 9 which has come up with significant advancements in marketing, automation, data and customer experience management.
It is because of its highly rich features that organizations are taking decisions to upgrade to the latest version. but the question is why should you upgrade to Sitecore 9?
Let's discuss this in more details here in this blog:
The Business Benefits of Using Sitecore Development:
Upgrading to Sitecore will improve the user journeys and personalization and this can hasten the process of achieving business and digital goals.

Complete integration of email marketing, CRM and forms can easily deliver a fully automated marketing program.

Marketing departments can now get actionable insights from real time data and also take essential steps to stay ahead of the market competition.

Integration fluidity between any third party technologies and Sitecore helps to streamline data exchanges and also stops systems in silos.

Upgrading to Sitecore 9 has great benefits for the organizations and they should rethink several strategies according to the industry they serve:
---
The Cloud Strategy:
Sitecore cloud on Azure offers great efficiency and adds to your ability to scale and deploy the infrastructure on demand while decreasing the on premise costs.
With Sitecore development, you can now go with the on premise and IaaS models either in Azure or any other data centers, but the PaaS deployment may prove to be a game changer for various enterprises.
This was also available for version 8.2, but a wider adoption is expected as part of upgrades to the latest version 9.
Also Read: Revolutionize Sitecore Development by Using the Power of Docker
---
The Sitecore Ecommerce Strategy:
Sitecore ecommerce for version 9 has its advantage as a one connected platform.  It has the ability to track, measure, tag and optimize the entire end to end journey and this a strong value proposition.
There are many organizations that struggle to separate the platforms that serve in different ways to the customer journey.
This makes it difficult to build an accurate picture of the customer behavior and also any opportunity for improvements.
"Sitecore commerce was an evolution of Microsoft Commerce Server and it has been re-architected to take complete advantage of micro service architecture."
So, if you are looking to streamline your ecommerce operations, then the end to end experience served by the one platform is worth considering.
---
The Data Strategy:
If you want to re-align alone a more centralized data strategy, then Sitecore has come up with tools and connectivity that are needed to contribute to highly valuable data.
With Sitecore 7 and 8 versions, we were introduced to the xDB, which is a flexible and powerful database that helps to collect behavior across the customer journey. 
"With Sitecore 9 version, we have been introduced to xConnect, a web API based services that make it easy to pull and push xDB data to all the channels and other external business systems in a structured way."
Sitecore also offers a better built in support for GDPR legislation and the Sitecore 9 version offers mechanisms that makes it easy for the teams to comply.
Also Read: How Sitecore CMS Helps Business Owners Maximize Web Conversion