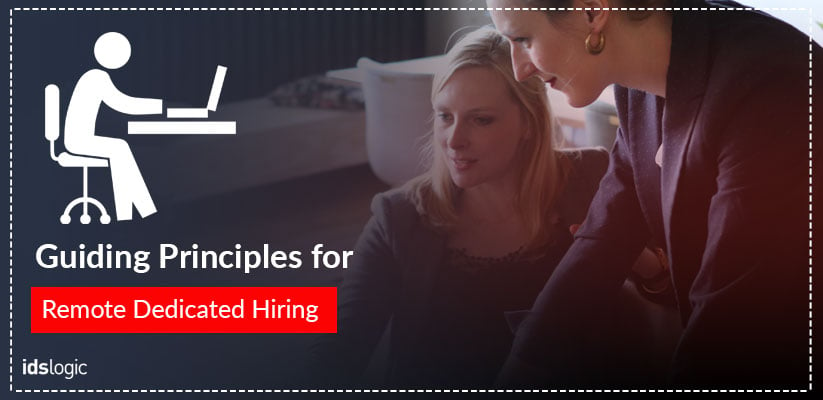 Guiding Principles for Remote Dedicated Hiring
Modern technologies have allowed business owners and staffs to become more flexible and mobile. How big is your business?  Usually it can fit into your laptop, smartphones and other devices that allow our users to connect from anywhere and anytime.
Sharing reports, planning presentations, approving the strategies or business plans and becoming a part in conference calls without leaving your house is a big advantage. And such mobility has influenced various business operations, work approach and HR processes.
Remote dedicated hiring is nothing new these days. But before organizations of various sizes hire a dedicated development team, here are a few points that they to consider to meet the challenges of remote dedicated hiring.
Why do You Need to Hire a Dedicated Remote Resource?
We all know that there is a shortage of talent in various areas and skills. About 78% of the HR manager are of the opinion that most technical skills will become more niche in the next 10 years. This statistic has led to many companies looking for remote skilled employees.
Whether you are recruiting for remote roles or connecting your skilled candidates spread across the world, thankfully you can use latest tools that come out every day that can help. Here is what you can do:
---
Video Interviewing is a Core for Remote Dedicated Hiring:
When it is not possible to conduct a face to face connection with your remote candidate, video interviewing is a great opportunity to get to know about your candidates. While hiring the best skills, your company should provide the candidate with all the information that they need in the interview invitation.
You should double check the technical skills of your candidate before selecting the best remote dedicated hiring resource.
---
Collaborative Engagement:
This is a great means of getting your team involved in the remote hiring process. With a heavy focus on the candidate's skills, experience and personality, it is worth getting the team involved a bit earlier in the process for remote hires.
In doing this, future teammates will also get an opportunity to assess, evaluate and know the potential remote hires in the recruitment process. This will help them to ensure that the person hired is a good skill fit and in addition to a cultural fit to their existing team.
Elongating the Hiring Process may Prove to be Beneficial. How?
Getting to know someone often involves time and this is no different with dedicated hiring. Since distance, location and virtual communication are some points to be considered carefully, devoting some extra time to the process is also crucial.
Also Read: Things You Should Know About Effective Dedicated Hiring Process
There should be stages in the recruitment process so that you find time to know the person really well because once they all start working remotely, you won't have enough time to know each other. So, the difference with remote dedicated hiring is elongating the hiring process so that you both get to know them better.
---
Customize Your Question Set:
Together with your standard screening and technical questions, there are some additional questions that you have to add for remote candidates. There may be a couple of core competencies that you may want to look for besides the software skills. A few of them may be time management, consistency, communication, proactivity and etc.