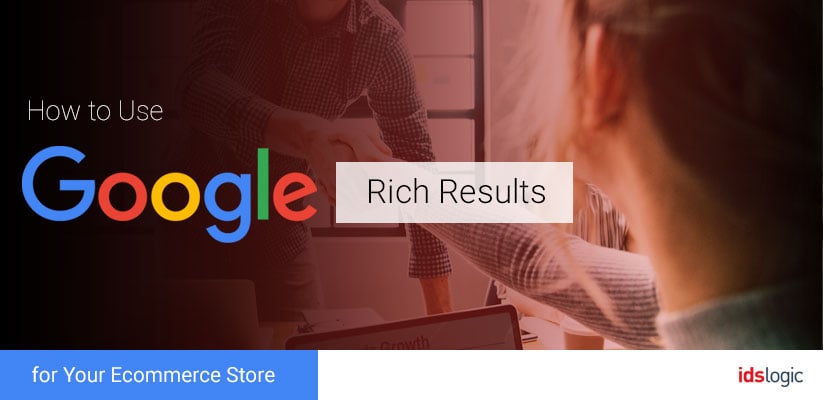 How to Use Rich Results for Your Ecommerce Store Advantage?
Whenever we are in need of some information, we use search engines to pull out information from the web.  Search engines, in fact are making it easier for us to find the best information via their result page. Today, Google has moved from a simple question and answer engine to a service that uses machine learning to offer the best solution for the user's needs.
If you have an online business and you are not bringing in potential shoppers, then you will have little chance to survive in this competitive market. So, your ecommerce store needs to set up some information that will appear in the search results and make it prominent before the potential shoppers, so that they have a chance to purchase your products.
In this blog, we will identify the essential pieces of information that you will need to display before your potential customers to build their customer confidence and increase the click through rates of your ecommerce store.
What are Rich Results? Have You Ever Used it for Your Business?
With thousands of web pages on the internet, it is a big headache for the search engine bots that crawl and index the sites. Rich results are specially designed to highlight the key information on your website and help the search engines understand the purpose of the page as accurately as possible.
This means more relevant results for the users. Rich results are actually rich snippets offering information to be displayed in the results.
You may have used it many times, but without considering the core aspects that help your ecommerce store to gain visibility.
How can Rich Results Benefit Your Business?
Rich results always appear at the top of your result page and are the first thing that the users see on the SERP. They are displayed in boxes and are accompanied by an image and star ranking making them quicker and useful than traditional results.
Are You Looking for Ecommerce Support and Maintenance Services
Detailed rich results of your ecommerce site often presents a more enticing prospect for the users to click through to your site and the search engine algorithms prefer high click through rates that boost the rankings for your site.
How to Use Rich Results to Your Ecommerce Store Advantage?
If you are aware of SEO, then you will also know the importance of ranking number one on Google.  But just ranking number one will not help pay your bills. It is only by focusing on the click thru rate that you can make the maximum benefit for your ecommerce store. Here are some crucial components that you need to use for rich results.
Product Data:
It is very important to squeeze in maximum information into your metadata. If you do it in the right way, you will be able to include the basics that visitors are looking for in your ecommerce site. This information can also get the people excited about the product and make them click over your site.
Structured Data:
The next part involves how your ecommerce store is built.  Your website design and information on the pages will help people find it when they search your products or services from their devices. It should contain information that can directly relate to your visitors.
Availability:

 
This is an attribute that is easy to understand and it needs to appear in the search results together with the price. Include the details of your product and its availability if you actually want them to place an order from your store.
Technical Details: 
Your rich search results of your ecommerce store should also involve setting up your metadata to include product details like the dimensions, weight and etc. Your designers have to invest some time to include as much product detail as possible.
Also Read: Important Things to Consider After Your Magento 2 Ecommerce Store is Installed