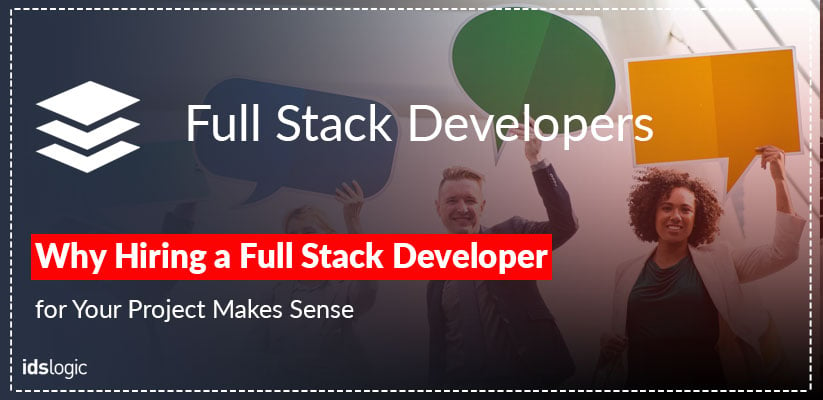 Why Hiring a Full Stack Developer for Your Project Makes Sense
The world of technology is continuously changing and reinventing to suit the needs and demands of the users. With upgraded technology coming to the forefront, the lifestyle of people has also become a lot simpler and easier. 
To create websites or applications, software development companies have to hire skilled technical resources to reduce the risk of product failure upon launch.  Though the business owners have the option to build their own apps, they may not be that technically sound with various features and security codes.
Now the question is why not hire a full stack developer who can carry out the project with great responsibility and deliver the best within your budget?
Who is a Full Stack Developer?
Full stack developers are software professionals having a clear understanding of every layer of software ranging from the back-end to the front-end. They are skilled enough to create a website as per the exact requirements and have the ability to work with numerous software tools for designing unique codes that help to run the site smoothly.
Core Benefits of Hiring a Full Stack Developer for Your Business:
Helps to Boost Business Productivity:
The top full stack developers act as specialists who can help everyone communicate effectively.  This helps to increase the cohesiveness of the team and increases determination, motivation and passion for the project.
They help the entire team to become more efficient and foster greater collaboration, thereby increasing the team's productivity as a whole. They also act as a great team player with exceptional social skills that help to understand and meet the software requirements.
---
Diverse Technical Experience:
Full stack developers are experts in anything related to web and application development. They can analyze the project requirements and come together with viable solutions for the development without any delay.
It is their huge experience that helps them in finding out of the box solutions and face any challenges better than others. This is something which cannot be expected from any other developers.
---
Quick and Fast Troubleshooting:
While creating a website or an app, there are several types of bugs and errors that can come up.  This can take place in any stage of the development process. For most developers, understanding and finding the root cause of the error can be a difficult and time consuming task. This often leads to delays and of course cost escalation as well.
However, a full stack development company in India can help to troubleshoot things easily and come up with a faster remedy.  These developers can often troubleshoot problems better than others.
---
Complete Ownership and Cost Savings:
Hiring a full stack developer helps to take complete ownership of the development and designing of the website. Every issue that crops up in the process can be solved by a single person and the client also has a single point of reference who can explain the task and also reduce the hassles of communications.
Since full stack developers are experienced in both front end and back end applications, they help to save on the cost that is needed in building a website or an app.
Also Read: How to Hire a Skilled Full Stack Developer? Technical Expertise to Consider

---
Quality Enhancement of the Product:
Hiring professional full stack developers help to stay updated with latest skill sets and knowledge. They are capable of making the website compliant with the latest web norms and regulations. They can also help to find the performance bottlenecks of the existing apps and the site with fast remedial measures. They can polish the apps and help it to stay competitive in the market.
Full stack developers have experience of working on diverse technologies and projects and so they are a perfect match for any requirement and get any complex thing done easily without wasting time.