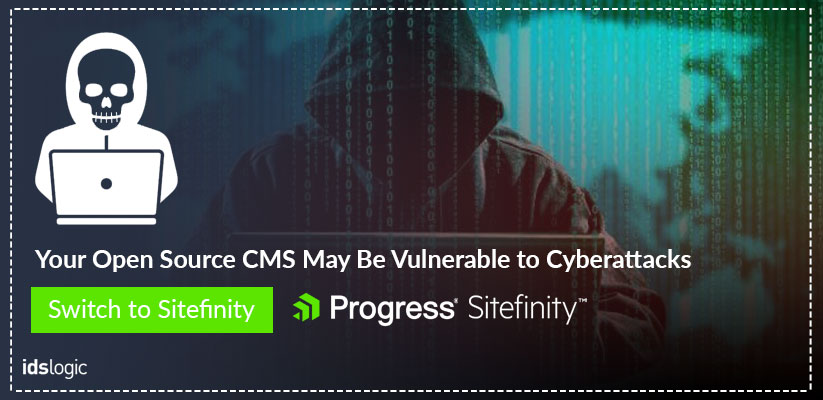 Your Open Source CMS May Be Vulnerable to Cyberattacks. Switch to Sitefinity
In general, any web application may get exposed to unauthorized access due to the use of some specific technologies. Business organizations often prefer to use an open source CMS to reduce their costing, but in doing so they often become vulnerable to security risks.
Web security has always been a major concern for most organizations and often they do make compromises. Organizations that neglect security often have to face unnecessary costs in the long run.
Is Your Open Source CMS Secure?
A recent report has stated that web security issues of most websites are related to the vulnerabilities in themes, plugins, misconfigurations and lack of maintenance by the webmasters. And all the top hacked CMSs that are highlighted are open source options with WordPress CMS on the top.
This is not the end, there are many developers who rely highly on ecommerce integrations or platforms that don't ensure protection to the customer data.
"One disturbing fact is that the attack and security breaches are surging in 2019 and with the number of cyberattacks skyrocketing, web security is becoming more vital than ever for business today."
Hiding from the reality is not an answer to this issue. There have been multiple cases when government agencies have lost millions of records simply because of their inadequate security practices. So securing websites, systems and APIs should be the building block of any CMS or ecommerce strategy.

---
Is Sitefinity CMS Development a Better Option?
A good way to start with your CMS development project is to review the top application security risks and how your chosen CMS platform helps to cope up with it.  Keeping your application or website secure is not a daunting task. All that it needs is a fair amount of planning and executing the strategy that goes beyond securing the website.
Consider if your CMS platform can offer protection of your intellectual property and your customer's data anytime of the day? 
Sitefinity is a popular CMS that helps to transform the digital experience with solutions that are designed to accomplish specific client requirements. If you are an enterprise looking for a dynamic, customizable, scalable and secure CMS solution, then Sitefinity can deliver all these and ensure high end CMS and marketing solutions.
Progress Sitefinity is specifically designed to deal with the entire OWASP list of application security risks https://www.owasp.org/index.php/Top_10-2017_Top_10
Sitefinity CMS development is the first CMS to come up with a web security module that enables the administrators to quickly configure the security response headers to ensure that the websites are configured thoroughly for optimal protection.
---
How Sitefinity CMS Protects Websites?
1- Sitefinity comes with Role providers and Membership providers that helps to manage the users in the system and assign them varied roles. This helps to configure proper permissions for managing different content types.


2- The site shield feature protects a website that is under development from any unauthorized access. You can use it to allow the users without backend permissions to view the site.

3- Enterprise that needs to conform to the security standards should have an audit trail that contains the log of the user actions. And for this Sitefinity CMS offers a module that persist this information.

4- Progress Sitefinity CMS also has an out of the box HTML sanitizer that prevents the dangerous HTML and XSS attacks.

5- Sitefinity uses the three authentication models complying with the security standards like the FIPS that helps to prevent broken authentication. All the passwords are encrypted when they are stored and can be adjusted for strict security policies.
If you are concerned with improving the security, productivity and performance of your organization, then try moving away from your open source CMS and choose Sitefinity CMS to address your immediate business needs.
Also Read: Using Bootstrap with Sitefinity CMS: A Guide