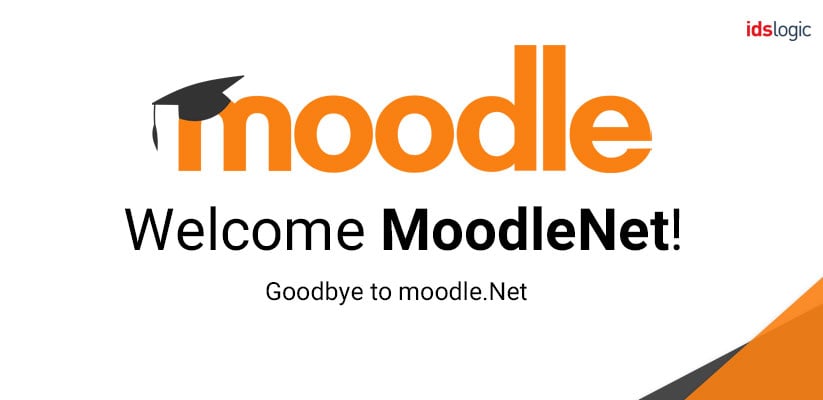 Bid Goodbye to Moodle.Net and Welcome MoodleNet!
I have been working with Moodle LMS for the past many years and have helped learning organizations and enterprises to create online courses effectively. It is the most popular LMS and is used by academic organizations of all sizes to design and manage learning programs.
With more than 100 million users all over the globe, it is the most popular open source LMS. Moodle has often come up with the latest versions and updates with rich features and functionalities that has helped organizations to manage their tasks efficiently.
One important news is that Moodle.net is closing soon. From August 2019, the content that is shared on the current community sharing site that is moodle.net will be closed and all the contents archived. How will it affect:
If you were able to share your course on Moodle.net, users will no longer be able to do it any more

If you shared a course to enroll in on moodle.net, it will not be listed since September 2019 when all the courses for download will be moved to archive.moodle.net.

You will also not be able to use the Community finder block to search and find courses on Moodle.net either to enroll or to restore on the site.
As part of the preparation for a new MoodleNet plugin coming in the 3.8 version, the moodle.net site is to be closed. MoodleNet is described as a new open social media platform for the educators who are focused on professional development and also on open content. It will now be an integral part of Moodle. 
Also Read: Tips for Creative Moodle Hacks That Will Boost Your Course Performance
The Whats and Whys of MoodleNet:
We all are aware that Moodle is an international open source software that is used to create powerful learning applications by schools, educational institutions and workplaces.  The platform allows the educators to easily create a private space online and it is filled with tools that easily create the courses and activities and also optimize for collaborative learning.
The products of Moodle development are also used by well know organizations like Cisco, the United Nations and also The Open University. Moodle's mission is to empower the educators to improve the world and with MoodleNet, the mission is intended to be fulfilled by sustainable solutions empowering the communities of the educators so that they can share and learn from each other and contribute to improving the quality of education.
MoodleNet is a new social platform that is focused on professional development. It will begin life as a place for the educators to share and curate the collections of resources.
Some Core Features of MoodleNet:
Open Source:
It is an open source, open content and is open to all the educators to discuss freely, share and work together to create a better future.
Transparent:
It is built as open and based on the suggestions offered by the community. With MoodleNet, you can now observe and participate in what actually happens behind the scenes.
Connected:
It helps to bring the educators from all over the globe and MoodleNet exists to create the new connections and also helps to strengthen the existing ones.
Ethical:
Unlike most other platforms, the business model in MoodleNet does not involve selling the user data.
Private: 
It offers granular privacy controls and this allows you to share as little information about yourself as you want to post.
Also Read: Top 10 Free Moodle Themes to Make your Moodle Appear Elegant