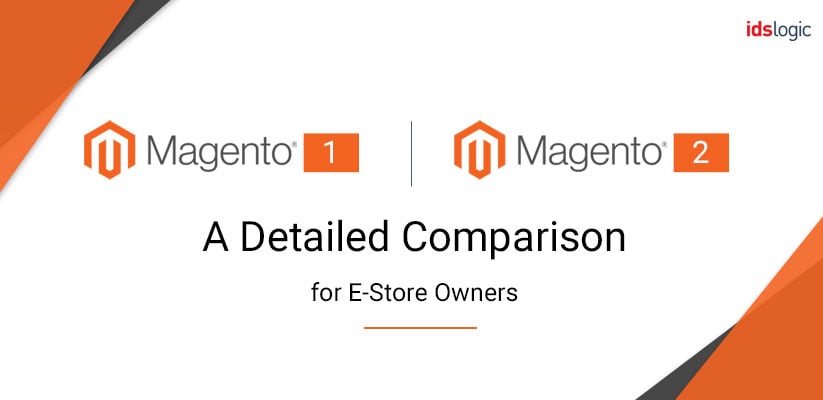 Magento 1 And Magento 2: A Detailed Comparison for E-Store Owners
Magento has always been considered to be one of the best ecommerce platforms that offer some of the best features in its services and products. Since its launch, the platform has come up with new versions and updates to enhance the ecommerce experience and to help business owners make a well informed decision.
Though it took quite some years for retailers to get in terms with Magento 1, but with time they have become comfortable with Magento and now they are refusing to step out of it.  But with the dawn of the latest version of Magento 2, it is time for the e-store owners to make a smooth switch over.
Difference between Magento 1 and Magento 2
Architectural Differences:
The core issue with Magento development was the store performance and this has been improved in the Magento 2 version. This change is possible because of adding a bunch of advanced technologies like Nginx 1.7, Symfony, Apache and even Composer.
Magento 2 supports that latest PHP versions and this makes the security stronger and also enhances the online store speed.
Extensions: 
You will find a lot of third party extensions while using Magento 1, but the main problem is that the extensions conflict when two or more extensions try to rewrite same functionality.  With Magneto 2, the plugins allow overlapping of codes rather than overriding it.

Updating and installing of new Magento extensions have also become cheaper and easier as the Magento 2 comes with technologies like SHA-256
Security and SEO:
Earlier, when Magento 1 was released, SEO was a new concept and so it lacked the essential functionalities to support SEO strategies. But Magento 2 development has come up with better hashing algorithms and optimization functionalities that aid better SEO.
Also Read: Top SEO Tools for Magento 2 And Their Impact On Your Store
Not only this, the latest version also offers strong security options that help to protect from cyber attackers.
Improved Admin Panel:
The admin panel in Magento 2 is highly intuitive and user friendly. It not only allows finding information easily, but also makes the navigation throughout the site easier than before.
Are your ready to migrate your store to Magento 2?
Magento 1 lacked a comprehensive admin panel and Magento 2 shows cumulative lifetime sales, last orders, average orders, bestsellers, shipping options and etc.
Mobile Friendly:
The modern ecommerce has to support mobile if they want to remain competitive in the market. If an ecommerce website is not ecommerce friendly, the business will lose a lot of opportunities.
Magento2 has been released keeping this in mind and it has a layout that is highly responsive by default and supports touch friendliness. Magento 1 did not have mobile friendly features compared to the latest version.
Native Features:
Magento 1 needed extra plugins to offer various functionalities, which often means more work for the developers who had to meet client specific requirements. But in case of Magento 2, the platform is specifically designed with a wide array of in-built native features that offer a lot of functionalities without having to add plugins. It is said to have higher levels of features compared to Magento 1.
Also Read: How Magento 2 Helps Ecommerce Store Owners with Efficient Order Management