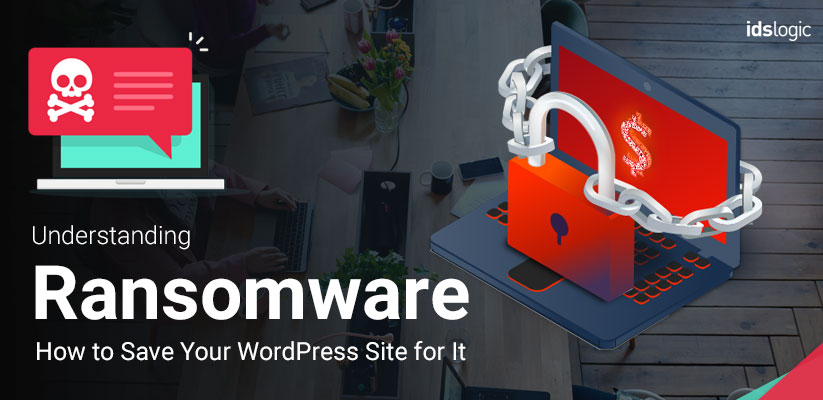 Understanding Ransomware and How to Save Your WordPress Site for It
WordPress is the most popular CMS that is used for blogging and to create websites that deal with a lot of content. With more than 30% of websites on the internet using WordPress development, the hacking attempts and other activities related to cybercrime is also on the rise. Analysts have also started to see an increase of Ransomware virus infecting the WordPress installations that put user data on high risk.
Here in this blog, I will help you understand Ransomware and how you can protect your WordPress website against such an attack.
What is Ransomware?
Ransomware is a malicious form of software that enters a computer system through codes that are inserted into an email or any video content or as any other attachment. The attackers use them to gain access to your system and it encrypts all your files by using strong encryption techniques.
The attacker then asks you for payment to decrypt the files. It is usually done under the threat of erasing your entire database or releasing the data publicly.
Also Read: Latest WordPress Development Trends in 2019 for Better Websites and Enhanced Interactions

Such kinds of attacks have already cost businesses around $75 billion every year together with nearly irreversible effects of diminished consumer confidence and damaged reputations. Most WordPress owners don't even report such attack and so none of the culprits are caught.
Security organizations advise the website owners not to pay the attackers as it encourages them. However, some organizations don't have any choice before them and so they pay to recover their data. But if you follow some tips and don't wait until the attack is too late, then you can save your WordPress website easily before a ransomware hits you.
Check Your Sources:
Make it a habit not to open any email or attachment that is suspicious to you. Those who are in business often receive unsolicited emails from various sources and some are also forwarded by known sources.
Out 20% of suspected domains are less than a week old and you can check the site by dropping the URL into the search box of Whois. This will help you identify the real name and location of the site owner, list the time their domain has been active and any other domains that are owned by them.

---
Consider backups and update as part of your regular maintenance:
Hire a reputed WordPress development company for regular maintenance of your site.  They can help you to update any security patches as soon as they are released and also ensure that regular backups of your site is taken at regular intervals so that you can retrieve the site if someone hijacks your files.

---
Make it mandatory that your clients use a VPN:
VPN became very prominent because of its ability to bypass geo restrictions that are imposed by streaming services like Hulu and Netflix. Though there are good reasons to secure your site by using a VPN, there are also other features that the service provider offers regarding your present WordPress website. Some of them are
DNS leak protection

End to end encryption

Secure email address

SSL authentication

Regular backups and updates.
---
Download documents only from official platforms:
WordPress is open source and that makes it easier for the criminals to insert malicious coding. If you install any new plugins for better functionality, make sure that you do it from a reputable source like the WordPress Plugin Directory, that checks the software and apps for vulnerabilities before the final release.