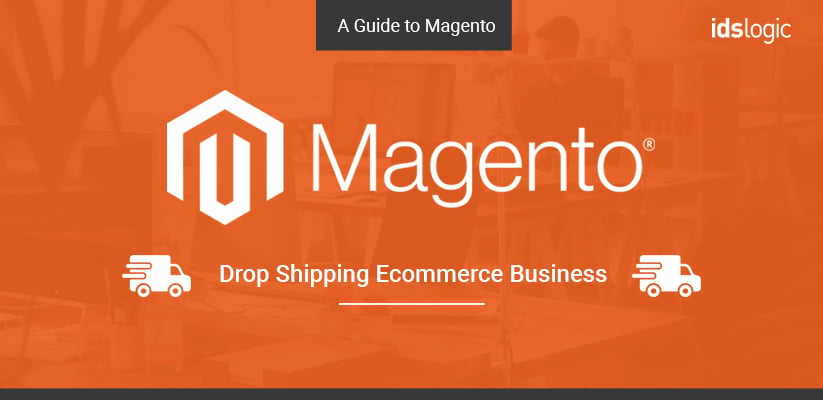 A Guide to Magento Drop Shipping Ecommerce Business
Ecommerce has proved to be one of the best sources for selling products online. As a retailer using Magento, you must always be looking for various means to grow and expand your business. And for this, you need to find a way to sell more products and then ship them to the customer address. Whether you are a startup or an established business store, there is always room to grow your business. One finest means to do that is through Drop Shipping:
What is Drop Shipping in Magento?
Drop shipping is a fulfillment process that helps business owners sell items from their Magento store front and then ship the products to the customer by a third party who is actually a wholesaler or a manufacturer having the inventory. Drop shipping is a great means to expand your product line, manage various inventory processes, streamline the orders and kick start your new online business.
Drop shipping in Magento helps the store owners to reduce the costs and liabilities of stocking the merchandise themselves. And the best part of the model is that the local supplier stays invisible and the customer receives the item as it was directly shipped from a local vendor.
How Merchants can Enjoy the Advantages of Drop Shipping for Magento Development?
With Drop shipping for Magento, merchants can now eliminate their worries of having and maintaining an inventory. When you work with multiple suppliers, you don't have to invest a large amount of capital to get your online store running.  The wholesalers maintain a large amount of inventory and also a wide variety of products and this allows the merchants to offer the customers a huge choice of products.
They don't have to worry about the supply and this reduces the stress of starting their own online shop and even avoid the fuss of packaging and shipping.
Low Overhead Cost: Since you are not storing the inventory, you have very low or no overhead cost and you don't have to pay for the rent and maintain a warehouse to store your products and manage the inventory.
Expand Your Reach: Magento ecommerce store owners can expand their reach by using Drop shipping. Suppose you are in the east and want to sell some products to the west market, then the long shipping time and cost can be a big issue.  But with drop shipping, you can strategically pick the vendors who are close to the west area and get the products delivered faster.
Launch the Business Fast: Another advantage of drop shipping is to make it easy for the sellers to launch their business at a low risk. Since they don't have to invest a lot of money and purchase the inventory, they can practically sell anything and run a business virtually from even their home and using a computer.
Also Read: How to Take Your Business to The Next Level with Magento
Great Flexibility: Drop shipping offers great flexibility to the Magento business merchants and you can be your own boss and then set the rules for your business. You can also continue with your existing career and choose this as your side business.  Adding and removing any products and adjusting them as per your business strategies is easy.
Location Independence:  Another feature that is highly beneficial for the Magento merchants is that they don't have to lose their sleep over the fulfillment or even running a warehouse. With Drop shipping, they can run their business from any location and also sell the products to the customer across the globe.  All they need is a laptop and an internet connection to manage their online business.
Thus, to conclude, we can say that drop shipping is a faster and easier means to generate revenues from your ecommerce business while keeping the investment cost at the minimum.  So, hire expert Magento development team and create an effective ecommerce website and do some market research before starting drop shipping business.