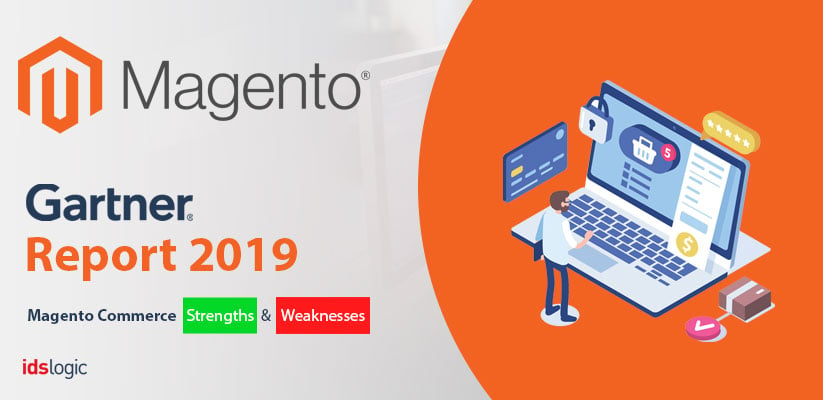 Gartner Report 2019: Magento Commerce Strengths and Weaknesses
The latest Magic Quadrant report has been released by Gartner where it has named Magento as the leader in the digital commerce landscape for 2019. Though this is not a surprise as Magento empowers thousands of brands and retailers with its rich features and flexible cloud solutions that help businesses grow and innovate rapidly. Since every business owner looks for a sophisticated ecommerce solution that is a perfect blend of scalability, extensibility and flexibility, Magento is a perfect platform offering world class features and mobile friendly themes that engage the visitors 24/7.
While analyzing Magento ecommerce platform, Gartner found a few areas where the platform could be enhanced to better support the B2B complexity.
Magento development supports both B2B and B2C businesses and cater to a wide range of customers in India, the U.K, USA, Australia and etc. It has come up with latest versions to provide new features to ecommerce owners and after the acquisition by Adobe, it has increased its customer base across the world.
Magento is a long lasting platform in the ecommerce landscape and is one of the biggest leaders in the webshop software. Compared to Shopify and BigCommerce, it has come up with AWS cloud hosted managed service offering and also has a single tenant SaaS. This has often become an appealing USP for the enterprises.
Some Strengths and Weaknesses of Magento as per the Gartner Research Report:
The Strengths
Adobe Acquisition:
Prior to the Adobe acquisition, Magento ecommerce was integrated with AEM, but now it is tightly integrated and the e-store owners have an easy access to the comprehensive suite via direct integrations with Adobe solutions that are used for analytics and marketing.  This has helped to fill the product gap in AI capabilities and personalization. Adobe's association with larger clients has helped to increase the enterprise deals for Magento that had earlier served SMBs mostly.
Complete Solution for Ecommerce:
Magento is a popular platform that includes the native Page Builder (WCM module) into its core platform. This has helped the developers with Magento integration for shipping, order management, data and analytics extensions or plugins.
Commerce Application and Partner Ecosystem: 
Another strength of Magento is that the Magento Marketplace is a robust application exchange market, which has more than 4,800 extensions offered by third party organizations. They can be operated directly from the Magento admin UI, which includes PIM search, Social media, marketing hub, CPQ, analytics and etc.  It also has a large ecosystem of technology partners, developers and agencies.
Embedded Intelligence: 
Adobe comes with an array of artificial intelligence tools and services that can be used with Magento, which includes smart content tagging to media budget optimization.
The Weaknesses:
Some Limitations of the Adobe Magento Integration:
While Magento developers can use the Adobe Experience Platform connector to access various functions in Adobe Target, Adobe Analytics, features like dynamic multivariate testing and AI driven personalization are not yet completely integrated into the Magento Commerce today. Though behavioral data is synched from Magento into Adobe Analytics, analytics data from Adobe is not synced back into Magento Commerce.
Portfolio Rationalization:
Adobe has made two major acquisitions that include Marketo and Magento. This has expanded its Experience Cloud portfolio. Use cases and positioning are still coming into focus as Adobe integrates the solutions. So, ecommerce owners with B2B sales needs should be watchful while determining the right fit for their needs.
B2B Features and Functionality:
As per Gartner, approximately 40% of the Magento clients use the vendor to support their B2B ecommerce, but the platform lacks some major functions of B2B features like the workflow approvals, role based spending limits and contract specific terms.
Also Read: How to Take Your Business to The Next Level with Magento