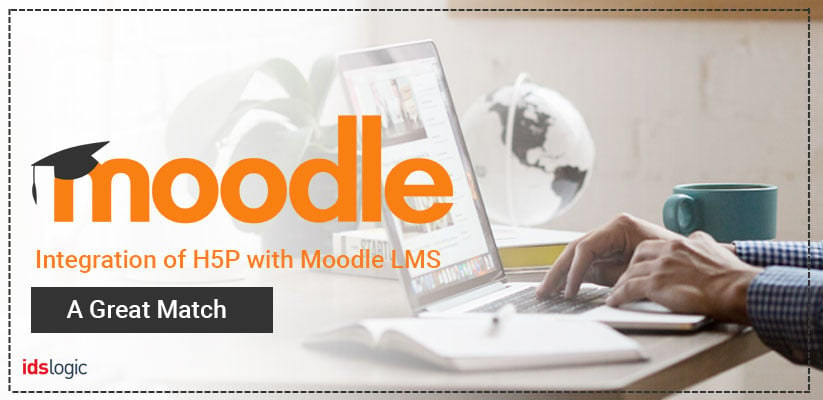 Integration of H5P with Moodle LMS: A Great Match
Moodle is one of the most popular learning platform and it has worked together with Joubel, the creators of H5P to incorporate it into the Moodle LMS. This new integration will bring in hundreds of new users to H5P, which is already a popular content extension among the Moodle users and this Moodle integration will propel LMS projects towards its goals. According to Moodle HQ, the H5P will be available with Moodle v3.8 and it will be available as a built in default Activity and latest features will be added in the upcoming releases.
What is H5P?
H5P is the acronym of HTML 5 Packaged and it is an interactive content creation tool that helps the instructional designers and educators across various platforms that include Blackboard, Canvas, Moodle, Brightspace, WordPress and etc. It is by using this framework that the educators can now share their interactive content with any system that supports the learning tools interoperability standards.
Typical interactive content that can be easily created by using the H5P includes interactive presentations, videos, games and virtual tours. With the exponential growth of websites in the world, H5P integration will help LMS users to offer great content. It may be easily plugged with the existing publishing system and this will empower the users to create better content and share them with each other in an editable format.
The coming together of Moodle LMS development together with H5P integration will enable the educators to create four main content types:
Multimedia: This integration will help to develop interactive and visually appealing content like Image sequencing, course presentation, find the HotSpot and etc.
Games: H5P allows to create your training modules in the form of a game and it also offers ten different types that makes learning fun and enjoyable like a game.
Social media: It helps a Moodle development company to create a video content easily with or without the audio for example Interactive Videos.
Questions: It allows the learners to easily access various question formats, for example, fill in the blanks, multiple questions, interactive video, summary and etc.
It is by using these four types of content forms that you can create as many as 43 different forms of content which will help both the teachers and the educators to create amazing course content for the learners by using the H5P tool with Moodle development.
Why Moodle has Joined Hands to Integrate H5P Tool?
H5P, an open source tool helps to overcome various obstacles when it is integrated with the LMS. Here are some of the most important issues that it handles:
Disengaged Learners: Offering interactive content material to disengaged learners is the best means to reengage them. It is crucial to keep such learners engaged or else they may leave the course. Using H5P tool will help you to save valuable resources of your organization and yet keep your learners engaged.
Monotonous and Dull Content: Some LMSes have content authoring tools, but Moodle doesn't have one. Making an interactive content can be a challenging task for the teachers, but with H5P tool and Moodle integration, they can now make their training and learning, both result oriented and engaging.
Solve Technology Issues:
In the 90s, Flash from Adobe was a great elearning authoring tool that helped the developers to add aminations to make their content interactive. But it had some issues and was replaced by HTML, which is not only modern, but also offers mobile friendly and responsive designs.
The integration of Moodle and H5P shares the common vision of empowering the teachers so that they can create better content for their course faster. H5P also promises to leap frog the quantity and quality of interactive content by making it easier for the teachers to create content upon each other's efforts without having to start from the very beginning every time.
Also Read: Moodle 3.8 Has Come Up with Latest Features for Your E-Learning Organization