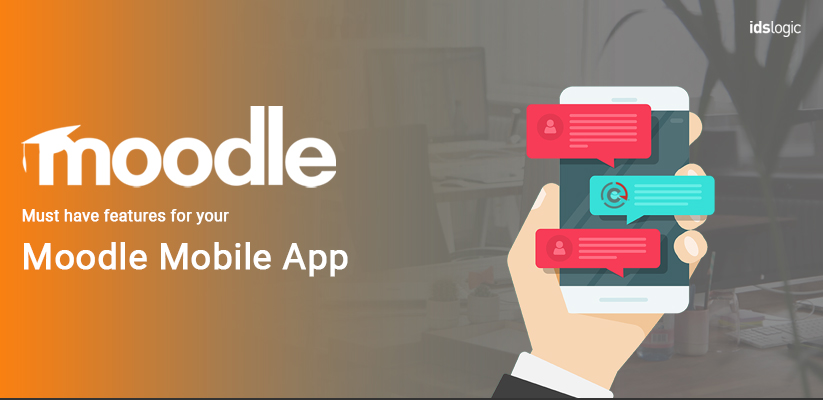 Must Have Features for Your Moodle Mobile App
Mobile learning is becoming highly popular and is another eLearning buzzword. Mobile is undeniably the most important thing because more than 1.5 billion smartphones are shipped every year and it is hard to imagine life without a phone. Moodle is one of the most popular elearning platforms and the world of mobile learning has had exponential growth in the past few years. As the majority of the content on the net is accessed via mobile, it isn't surprising that the elearning mobile apps have created a buzz in the industry.
There may be Various Reason why Moodle Mobile Apps may be a Strong Choice for the Users.
To determine if a mobile app is the way to go for your learners, you can consider what you are trying to get out of the program and how different types of learning have made an impact on the learners. A Moodle mobile app is a good choice for you if you need:
Instant Access to the Material:
With a mobile app, you can offer your learners easy access to the training resources whenever they need. If any issues come up, your staff can easily pull up an answer on their phones and save the precious time that would have been wasted by flipping a paper manual.
Increase the Total Quantity of Learning: 
With Moodle mobile apps you can easily allow your students or employees an easy and instant use of training materials. Elearning platforms like Moodle also offer gamification and microlearning features.
Some Core Features that Your Mobile E-Learning App cannot do without:
Learner Focused Designs:
Your Moodle mobile app development has a specific purpose and that is to facilitate learning. The user experience of your application is highly important when it is about ensuring the efficient delivery of content. A learner centric theme helps students to focus on the course content, which is optimally laid out across mobile devices without any varying dimensions.
Push Notifications:
Unlike messages and emails that have become rather ineffective or spammy over the years, a push notification helps to subtly push on to the notification bars on the learner's phone. The notifications are a great means to directly connect you with the learners and keep them engaged.
Different Content Formats: 
If learners want to retain the information that your courses offer, then a traditional written lesson won't just suffice. The course content can be in different formats to keep the learning experience interesting. To implement modern day teaching techniques, you will need the app to support various formats also.
Also Read: Integration of H5P with Moodle LMS: A Great Match
Micro-Learning Helps: 
Students usually have a shorter span of attention. So, smaller chunks of data always ensure higher receptivity and information retention.  Your content should always be designed for micro learning and the app should be able to deliver the content in the most effective means.
Drip feed Content:
This is a functionality that is used by Moodle elearning website developers for delivering large amounts of content in the form of manageable chunks. This drip feed content can be used in order to track the progress of the student, ensure that the learner has gone through the content before starting any advanced course, schedule the content delivery on a week or monthly basis in order to keep the students engaged and etc.
Test and Quizzes:
There are various ways to play around by using the quizzing techniques. For this you can implement the leaderboards, set the time limits for the rest, offer some hints and ask random questions. One thing that you need to ensure is that your mobile app can accommodate all these different traits easily.
The quizzes could also include varied formats ranging from fill in the blanks, multiple choice questions, matching and sorting to surveys and essays.  Your Moodle mobile application should ensure that all these various quiz types are laid out on the mobile screen and is a crucial step towards building a feature rich learner centric application.