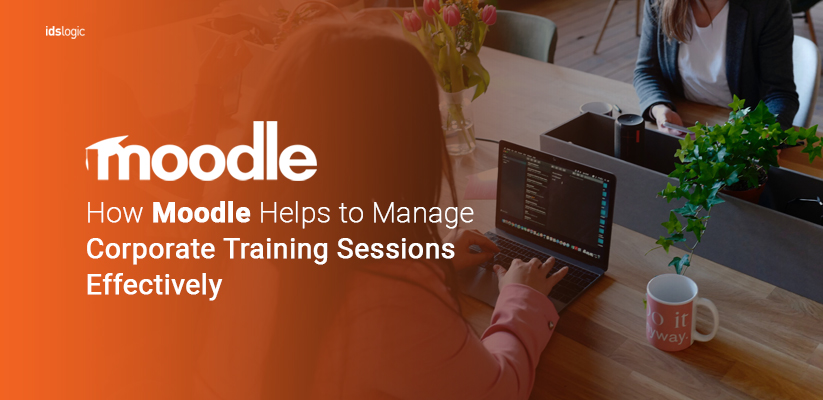 How Moodle Helps to Manage Corporate Training Sessions Effectively
Corporate trainings have a direct and measurable impact on the key business performance indicators and today, technology has opened up endless opportunities to innovate in all areas of business. Many professional educators and corporate trainers are using online training courses to boost the productivity of their employees. Online learning allows the employees to move through their training courses at their own pace and as per their unique needs. For this, business organizations are now using LMS platforms, so that the trainers too have more options to cater to the modules to specific learning styles.
Moodle is a popular LMS platform that helps business organizations to meet their corporate training needs. Since it allows training to happen anywhere at any time, the employees and learners can access the modules individually at home or work from their phone, tablet and desktop. It not only helps to streamline the schedules, but also creates relaxed and successful training experience for the learners.
Manage and Deliver Compliance Training in Moodle:
There are many organizations that do not have the resource to hire full time trainers or implement compliance software suites. However, with Moodle LMS development, they can set their training programs and ensure that their employees understand how to be compliant with their industry and government regulations. With the advent of hosted and open learning solutions like Moodle, executives of mid-sized companies can easily tackle compliance training and gain the benefit of aligning the individual performance of the employee resulting to serious competitive advantage.
Using the Quiz and Lesson Module for Compliance Training:
The Lesson as well as quiz modules in Moodle allows the compliance managers to offer good study material and graded questions that help solidify the learning sessions. Moodle helps the learners with the ability to select between multiple choice, numerical, essay, matching, short answer and true or false questions and etc. Having the questions graded automatically helps in training large batches of employees and also offers the trainers the ability to view the progress, completion and scores of each employee.
Also Read: Integration of H5P with Moodle LMS: A Great Match
Elearning Course Development in Moodle LMS:
The learning methods of people often vary and which is why many learners cannot excel in the traditional learning systems. Textbook learning may not be the right option for everyone and this has created the need to integrate some non-traditional means to create learning modules. There are various components of eLearning, which makes it beneficial as well as effective. Moodle allows you to incorporate various activities that not only helps the learning process, but is also considered to be the primary source of content.
Boost Engagement and Productivity with Moodle Mobile Training:
Moodle LMS offers you the option to deliver the training marketing on a mobile app. This is highly beneficial in corporate training as many employees don't spend their entire workday sitting before their desktop and need to travel according to their job requirements. Being able to complete the training modules via their mobile devices means that the employees can engage in learning sessions whenever they have some downtime. This reduces the disruption and the training costs and boosts employee engagement.
Tracking of Results with Analytics:
Assessing the value of your corporate training sessions can be difficult if you don't use analytics. You can combine Moodle other third party analytics tools and get a comprehensive picture of the performance of the learners and check the impact of your training on sales, productivity and other factors.