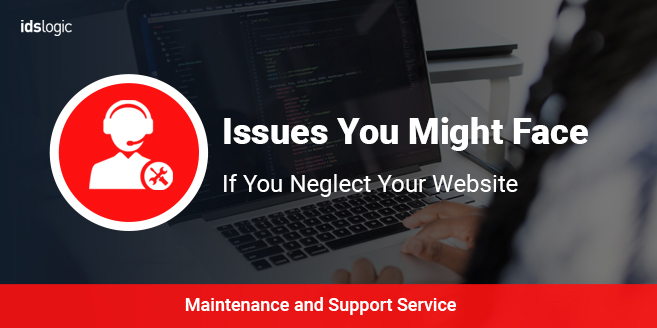 Issues You Might Face If You Neglect Your Website Maintenance and Support Service
Whenever we are in need of a product or a service, the first thing all of us do is to search for the suppliers or online sellers and visit their websites. If the users are unable to find you on the web or don't find your website appealing, then they will never stay on your site and may not even come back for more services.
 If your eyes are the windows of your soul, then consider your website to be the window of your business. So when customers look for your services or products, they expect something that will let them know that you are a professional company offering something of value.  It is only with a regular website maintenance and support service that your business can attract and retain the customers, offer useful content and at the same time maintain a good search engine ranking.
Your site is a functional, moving and evolving entity that needs tender loving care to get the best possible returns out from your investment.
If You Don't Give it a Regular Polish, then This is What can Happen:
Outdated Designs can Cost Your Business:
For most business organizations, a website is the first point of contact that the visitors have with your brand. Before anyone makes a purchase, they are likely to check your website to know more about your services. If your site looks like the ones in the 90's, then it won't reflect professionalism, innovativeness, reliability and dedication.
The quality of your service will much be judged by the quality of your site. So, if you want to keep your web designs fresh and updated, it's time to contact a website maintenance and support service provider in India.
Your Web Content should Always be Fresh and Relevant or You will Lose Business Opportunities
Outdated content often screams "I don't care". And if you really don't care about what your website says, then you can never expect your customers to care for your site. If you have not posted blogs, articles or presentations, then it is high time that you get started with it. It is better not to have a news section in case you don't have much to share. Your web maintenance and support company can help you keep your web content updated and keep posting at regular intervals.
Try to Match the Changing Habits of Your Users or Else They may not Find Your Website Suitable
The needs and habits of internet users are constantly changing and they have come a long way since the nineties. Their expectations of having a good online user experience have increased and if they find broken links, confusing navigation or a difficult checkout process that doesn't offer a smooth flow, then they might not use the site at all.
Also Read: Areas Where Your Website Maintenance and Support Partner Can Help with Strict Attention
If you have forms that users should fill or don't know how to keep the users engaged to the site, then you have to think on some important measures to keep your website fresh with tools and techniques so that you stay on top of your competitors and at the same time serve the users' demands.
Not Upgrading Your CMS Software may Leave You Vulnerable to Hacking:
If your business website is using a CMS software, then it is crucial to keep it updated. Since most CMS tools continuously improve, it is important that you too don't miss out on the awesome features that come with every update and add value in terms of new functionality features. Such features often make it easier to manage the performance of the site and keeps you safe from cyber-attacks and hacking.
If you are not into the habit of maintaining your site, engaging your customers and gathering deeper insights using Google Analytics, then you are missing out on all that the web has to offer.