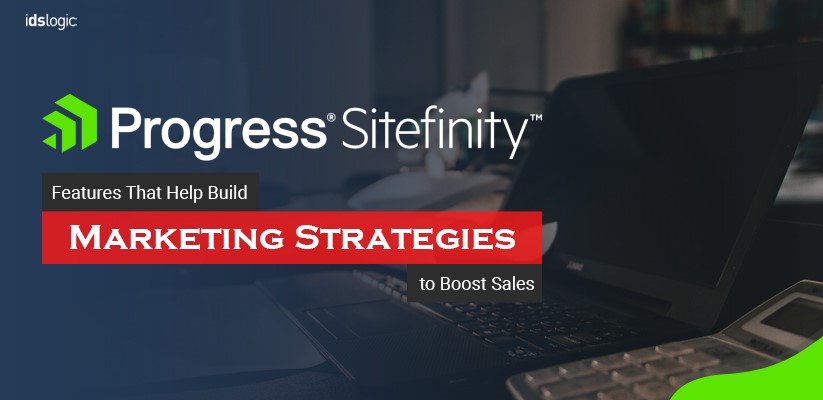 Sitefinity Features That Help Build Marketing Strategies to Boost Sales
Creating and maintaining a digital marketing strategy that works together with the website has always been a challenging task for the website owners. But today, we have numerous CMSes in the market that has come up with the latest features that help the marketers and the sales team to build a solid marketing plan that empowers them to be more productive by generating higher sales.
Sitefinity CMS has been in the market for a long time and with years, it has come up with some latest features that has allowed the users to create marketing strategies that really work.  If your business is an online store, then the best means to drive online sales is by implementing an eCommerce marketing strategy.
But how can you increase your online store visibility, convert your visitors to customers and drive engagement? 
Here in this blog, I have discussed some tips of using Sitefinity to establish your marketing objectives.
Crucial Information That You Need to Gather Include:
Analyze your business process:
Before you prepare a marketing plan for your Sitefinity development website, it is crucial to map out exactly how your online store operates. Know the entire purchase process and identify the areas that need improvements. You can streamline the ordering process or increase the product turnover and boost the purchases. It is by establishing the specific and achievable goals that will help you direct your marketing strategy in the right path.
Personalization and customer segregation
It is also important to identify your potential customers and what their choices are, shopping habits and payment options. Sitefinity offers multiple gateway payment options and allows customers to browse the site from various digital channels. 
The customer journey can be mapped by using some tools that help to make it easier for the organizations to map out or identify different types of customers and segregate them according to their specifications. This helps the eCommerce store to tailor their marketing strategies so that each customer gets services according to their needs and preferences.
Research your key competitor's strategies:
Another most important step that you should take is to do a thorough research on your competitor's keywords. What seems to be working well for your rival companies? What channels are they focusing on for their marketing strategies? Understanding their work and marketing plans can help you to create a marketing plan that works.
Also Read: Content Marketing Through Sitefinity That Helps Business Grow
This will help your organization to provide information or message on the digital channels that are dominated by your competitors. If in case there are some other digital channels that your competitors are not using, then you can use the opportunity to be the first one to market on these channels.
How Sitefinity helps:
Create user segments and personalize content
Sitefinity offers features that can help business owners to create user segments based on their preferences and requirements and then use it to personalize the information or the content that are sent to them.
Also Read: Maximize Marketing Impact by Creating Sitefinity Responsive Website
You users can be segmented based on the marketing campaigns, personals and scored leads. It is only after proper segmentation that you can then focus on developing your eCommerce marketing strategy.
Tracking:
Another most important feature that Sitefinity developers can use is to track the visitor's action as they browse the site through the entire website, which includes forums, pages, files, forms and etc. Once all the data is gathered, it can be stored and used to perform essential marketing tasks and build a good plan.
Once all the information has been gathered, it's time to begin developing your eCommerce marketing strategy. It is by following the outlined points that you can maximize your success as a top eCommerce store.