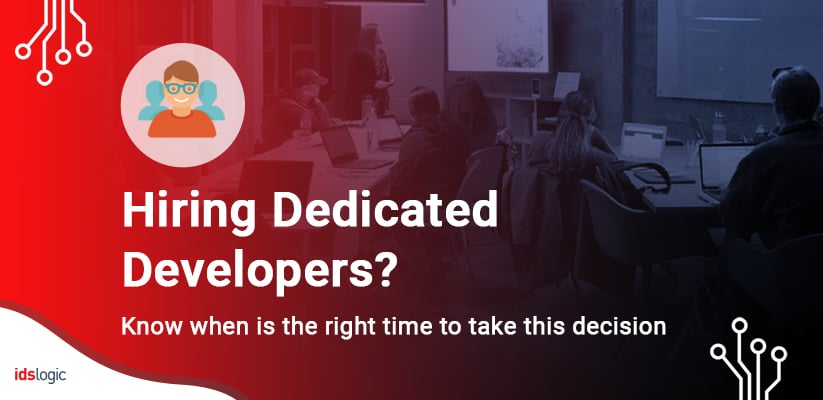 Hiring Dedicated Developers? Know When is the Right Time to Take this Decision
If you have decided to start working on your next big mobile application development, then you must be planning whether to recruit skilled professionals internally or hire dedicated mobile app developers from a reliable service provider.  Since your ambitions are mostly fueled by high expectations, it is becoming increasingly important to hire a team that can work on emerging technologies.
Dedicated developers having the required skills can help you to proceed with your project, but are you sure that this is the right time to invest on them?  If you are facing any dilemma regarding this, then this blog can guide you and help you take the best decision regarding hiring a development team to work on emerging technologies.
Mobile application ecosystem has already passed the mark of a decade and it encapsulates about billions of people using smartphones to access websites and other information. With limited professional app developers and increased needs, it is crucial to understand the need of the business and if it is really worth the investment. Developing a mobile app or hiring a dedicated developer need proper research and planning and if the result is convincing, then you can get a nod and proceed.
Is Your Website Visible to Your Targeted Audience? Or are They still Unaware of Your Brand
There must be some solid reason behind developing your mobile app and hiring developers. Reports have stated that American consumers spend about 5 hours per day navigating through their apps on their mobile devices. This will keep on increasing every year and without an app your business won't be visible to your audience and you will be losing business opportunities. If you are willing to reach out to newer markets and improve the visibility of your business, then hiring dedicated developers to create a mobile app is truly justified.
How Engaging is Your Site?  Do You need to Improve the Audience Engagement?
Another main reason that you need to turn to mobile apps and hire dedicated developers to create it is because audience engagement is important and improved user interface plays a great role in it. Mobile apps can offer great services and also keep your customers updated with the latest information. They can now enjoy better opportunities to stay engaged and connected with your website.
Also Read: Things You Should Know About Effective Dedicated Hiring Process
Do you have to Complete Your Project on Time and Reach Out to the Market at the Earliest?
Hiring dedicated mobile app developers will help you to complete the project on time and reach out to the market fast and stay competitive. If this is what you are aiming at, then you have good reasons to hire dedicated app developers to complete your project. You can outsource to reliable companies and create customized, high quality and scalable mobile apps.
Are you Using any Specific Technology that Requires Skilled Mobile App Developers?
If you have plans to use any specific and latest technology for which skill is essential, then hiring dedicated skilled developers is a good option. Since they have experience in handling critical projects and can solve any issues efficiently during the development process, hiring them offers many advantages.