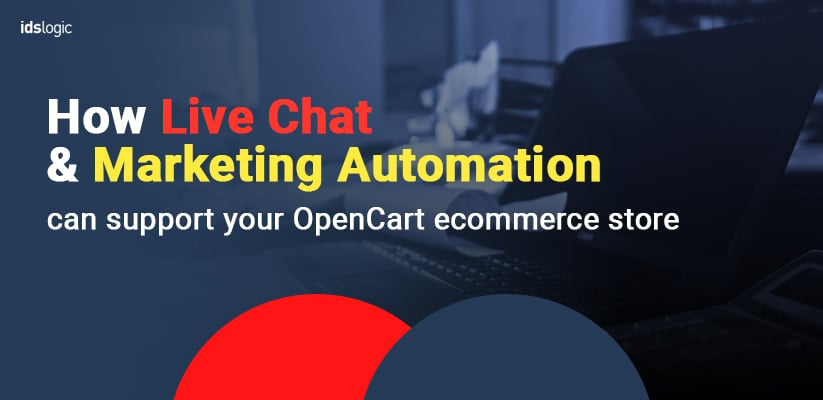 How Live Chat and Marketing Automation can Support Your OpenCart Ecommerce Store
We all know that ecommerce is changing the way we shop and it is because of the constant shift in technology that it is also crucial that brands now follow the innovation to make the customer experience better. Responding quickly to a lead or a potential customer will surely leave a better impression than leaving them to wait for what they actually want. Instead of waiting for a sales executive to connect with you for ten minutes, the quickest methods of a great service are through a live chat option and automation of some repetitive jobs.
OpenCart development is a popular platform used by online retailers to create ecommerce stores. And every business owner focuses on offering the best user experience to the people and connect with them when they are most ready to engage. Live chat is an important aspect of all ecommerce site and it has become a very popular feature for OpenCart website visitors shopping online.
Why should You Use a Live Chat with Your OpenCart Ecommerce Store?
Prospective customers can always ask questions about the products and need answers fast without any waiting time. OpenCart development companies are offering the live chat support as it is cost effective, serves as a real time communication channel and helps to address multiple queries at once. It helps the companies to stay ahead of their potential competitors who are still not offering live chat options from their websites as a means of communication.
Live chat for OpenCart enables you to add a chat to your store, which can be used by the customers to sort out queries and also access the cart details, like cart value, product link and product details. It helps to directly increase the sales despite been considered a useful tool that helps in customer support.
Also Read: Why Choose OpenCart for eCommerce Website Development?
Buyers who want quick answers to their queries will now spend 60% more and can convert easily to sales. This live chat option can be attributed to answer pre sales questions. You can easily install the live chat to your OpenCart store in just minutes and the platform comes with powerful features that includes real time monitoring, AI driven helper bots, scanned messages and etc.
The Importance of Marketing Automation for OpenCart Ecommerce
Marketing automation is a process that uses the software to manage any marketing tasks that are repetitive. The examples include automated emails that are based on the user's action and social media posts. Marketing automation needs the data like the user's email address, social media activity, purchase history and etc.
Thus, a marketing automation tool helps to integrate with the data source and helps the campaign create a journey for the email subscribers.
Opencart developers in India or the U.K. can use marketing automation to save time while still keeping the quality relationships with their customers. Markets can use to publish dynamic content which is perhaps the most important feature of marketing. Changing the content of the website or an email automatically based on the subscriber helps to offer them personalized services and eliminates having to create hundreds of variations.
Also Read: The Benefits Accelerated Mobile Pages in Opencart
Instead of analyzing the sales reports manually and checking the website traffic information, email marketing statistics can help to see the information in one place. But this may need to set up all the integrations and set the basic functionality.