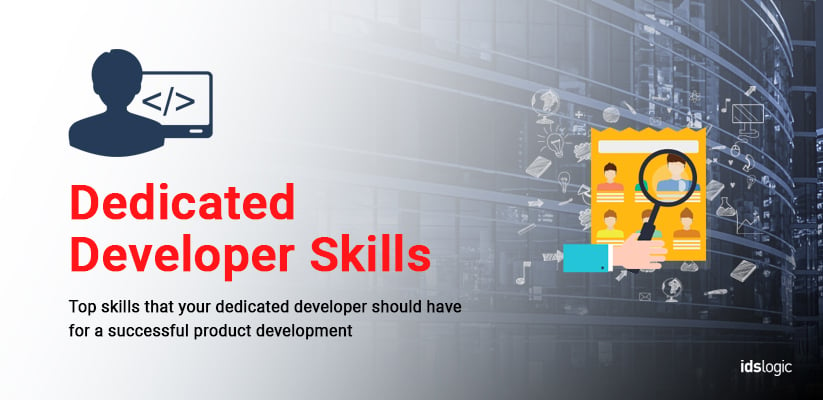 Top Skills that Your Dedicated Developer should have for A Successful Product Development
In the past few years, there has been a great demand for dedicated software developers and reports have indicated that the demand for such programmers is going to increase in the coming future. The need for software development jobs will also become highest due to companies having the need for expert programmers. With the need for knowledge and expertise of scripting languages and toolsets, there will be a great need for top web developers who can be hired dedicatedly.
Having a complete understanding of the computer programming and having coding skills is the prerequisite of all job descriptions of web and mobile app developers. However, there are also other requirements that are important to future proof a software development project of a company.
Here in this blog, I will discuss with you the critical skills needed by the developer for a successful product development. Since the competition for software development jobs is fierce, top web development companies in India can stand out if they have some extra skills besides the technical skills.
Time Management:
This is a major skill that is needed by the developers to ensure that they can successfully develop the project on time. A great dedicated Umbraco developer is the one who must be reliable and also have a strong work ethics, which means that they should have the ability to estimate the time that they have in hand to complete the project effectively.
This ability to manage a project requires skills which your dedicated developers should have. There are also different time management techniques that can be easily complemented to help you manage your time schedules. The develop has to consider some factors like the time needed for planning, coding time, idea implementation and much more.
Problem Solving Skills:
While hiring a dedicated resource for your mobile application development, your Moodle developer or Magento developer in India should be skilled at problem solving. A developer has to learn how to solve problems effectively as this is the skill that can help into the success of the developed product.
Software developers have to learn how to effectively solve the problems irrespective of the technology or programming language that they use. Without this essential skills, the developers won't be able to proceed fast while creating an application.
Creativity:
Besides technical skills, your dedicated developers should also possess creative skills.  Though creativity is something which cannot be learned, but with practice developers can get better. They should have creative skills and should be able to effectively implement their creativity into developing a successful software product.
If a developer is creative, he can easily bring up new and innovative ideas to the team that will help all the other sections of the project. A developer need not have a one track mind on computer programming and coding. Developers with multi skills are in high demand as creativity has always been the much needed skill in every industry.
Accountable:
While hiring app developers in India, you must check that your developer has the ability to take the responsibility and ownership of his or her mistake.  This skill is something which is very special and will pay off in solving issues that arise quickly. When you own up the mistakes that you have made, you will be able to find the error and will never make the mistake in the coming future. Accountability is required to make the product development a great success.
Also Read: Things You Should Know About Effective Dedicated Hiring Process