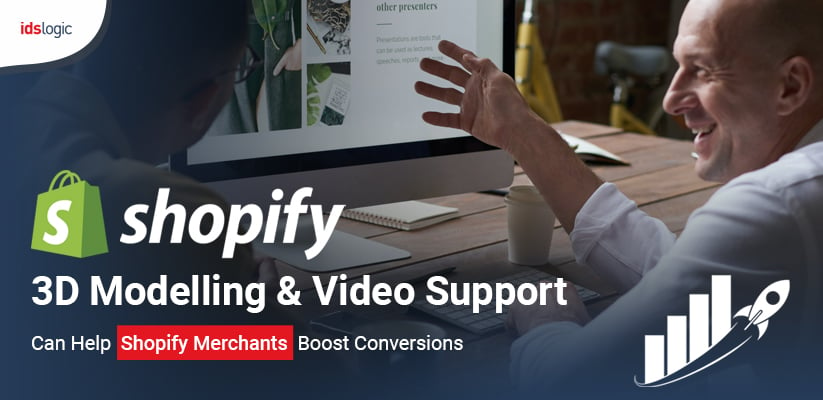 How 3D Modelling and Video Support can Help Shopify Merchants Boost Conversions
Ecommerce business owners always want to create a compelling store experience and offer visuals of products that people would actually see when they are in a physical store. Since customers try to figure out if the product they are looking for is the right one for them, they want photographs of products from various angles so that they can easily compare it with other products and also have the experience of trying the product.
Today, ecommerce platforms have developed a lot and they are natively integrating videos and 3D modelling capabilities in order to make the product experience even better for the merchants and the shoppers. Shopify development is a popular ecommerce platform and it has recently introduced built-in video, 3D modelling and increased Augmented Reality(AR) support thereby creating the ultimate shopping experience.
One most important aspect that needs to be considered in your ecommerce website is your product pages. Though having a great product description is important, the majority of the customers make a purchase decision based on the image and media of the product. Shopify ecommerce development has come up with advanced media support that allows the merchants to upload various technical aspects like 3D models and videos directly to product pages.
Benefits of 3D Modelling and Video in Shopify:
In the coming days, Shopify development companies will be able to use any combination of up to 250 images, videos and 3D models to show their products. Shopify development stores can also display their products from all angles and show how they can be assembled and moved and how they can serve the needs.
The 3D Media Will Add Life to the Product Images:
By adding the 3D support, the merchants can now have a quick access to displaying each product in a flexible manner. In addition to this, it will allow zooming, close inspection of details and spinning of the product. Users on mobile devices can also view the 3D models via the augmented reality that allows them to view the products as they look in real life without having to purchase the product or visit a physical store to have a look at it. The merchants can use it to create and display
Realistic image

Lifestyle shots

Color variations

AI/VI experiences

Animations
Helps to Increase Customer Engagement with Built in Video Support:
Video plays a crucial role and is an important marketing asset on the social media and also on your product page. When a video is added to the product page, it helps to increase the user engagement and this helps in taking a decision at the point of purchase. Shopify development companies in India can now incorporate videos in the product pages, thereby allowing the merchants to add additional context related to:
Explainer videos

Review

Testimonials

Teasers

Product demonstrations
Improve Conversions for Shopify Stores:
While 3 D experiences matters a lot, using new forms of media to display the products is also a great way to boost the conversion rate and deliver engaging product experiences. Such 3D videos help to serve as a part of the marketing to pitch to potential clients who are considering Shopify theme development. Once the customers have a clear idea about how the product will look like and how it will function, they can easily take a decision and this will help to improve the conversion rate of the ecommerce store.
Why 3D Matters Most for Online Stores:
The better your customers are aware of your products, the more likely will they be able to make a purchase and be satisfied with the product once they get it delivered. 3D videos are the most promising way to offer the customer life like experience with a product that is similar to buying from a physical store. Since they are able to make an informed decision, they are more satisfied than any other options.
Also Read: Is Shopify Plus the Best Ecommerce Platform for Your Enterprise