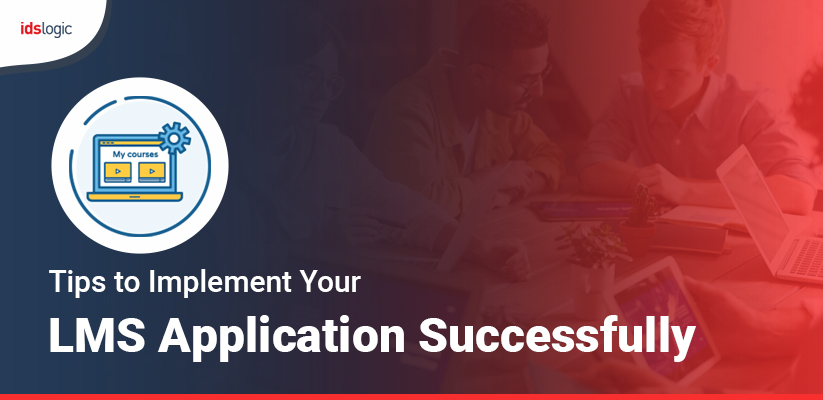 Tips to Implement Your LMS Application Successfully
If you have plans to deploy online learning courses for your academic institute, then developing e-learning course is just the first step. The courses should be made easily available to the employees and the learners so that they can access them according to their convenience. Investing in an LMS development platform is crucial and though it can be a major investment in time, cost and resource, you need to significantly plan and give attention to details.
A learning management system implementation is not something very easy to do. It involves a lot of complex processes and the only means to overcome this complexity is to plan properly so that it increases your changes of ensuring that the end users adopt it completely. Chances are that your competitors are already using an LMS and so you need to deliver something that will attract the learners and users and keep them engaged with the application. Organizations that lack appropriate planning are always at a risk of unwanted surprises, problems, extensive delays, which are likely to result in unhappy users.
So, here in this blog. I will discuss with you some effective steps that can ensure a successful implementation of LMS website development in your organization.
First Know What an LMS is and How it Functions
An LMS is a platform or software that helps to deliver training courses and assess organizational learning to ensure constant growth of employees and continuous learning among the learners. It helps organizations to host e-learning courses and deliver them on various devices. An LMS also helps to centralize the entire digital learning program by offering a single point of control. Not only this, it also helps the users to keep the courses up to date by enabling them to make updates and modifications and republish the content.
Know the Team that You Have:
Before hiring an LMS service provider in India, it is important to organize your own team and prepare them for the switch to an LMS. Most organizations categories their team into internal and external groups. The internal team usually consists of sales, HR, customer service and the external teams consists of the LMS vendors, suppliers and providers. It is also important to get ready for a tracking process to make things easier.
Design an Implementation Strategy and Workflow:
Creating an LMS plan in advance is the key to future success and so you can begin to formulate a learning management system implementation strategy before you buy the software. Proper strategy and workflow will help you to set the right team members, take their feedback and also ensure that you will successfully be able to deploy the LMS that you purchase.
Also Read: Integration of H5P with Moodle LMS: A Great Match
Carry Out a Content Inventory Audit:
There are chances that you already have some great learning content prepared. So make an inventory of all the important materials that you have in hand and which you want to have on your LMS application. You can easily accommodate a number of different courses and file types without having to work from scratch and you definitely want to ensure that your LMS works with all the existing materials in which you have already invested so much time and money. Do consider the type of material that you are planning to use in the future and your LMS will have the potential to grow in the coming few years.
Design Effecting Learning Programs that are Engaging with a Wow Factor:
Virtual classroom training should have something that can help the learners to stay engaged. Your LMS developers should include a variety of modules, lectures, classes, quizzes, audios and videos for evaluations and to keep the students engaged. If you are producing the courses in-house, then it is important to take care that the program has a wow factor that can keep the learners hooked to the course.
In this digital age, e-learning is at the center of professional development and corporate culture and with LMS development, you can improve the online programs and enhance the learning experience.
Also Read: Security Features to Keep Your Cloud Based LMS Data Protected