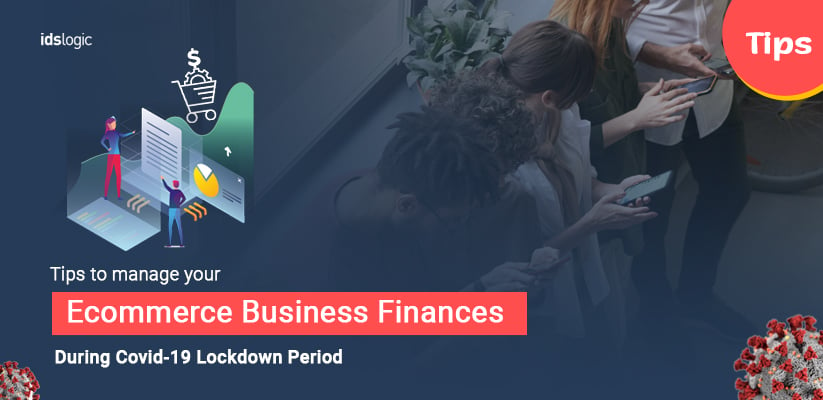 Tips to Manage Your Ecommerce Business Finances During Covid-19 Lockdown period
With the nationwide lockdown in India, businesses all over the country is getting affected a lot including online ecommerce. The temporary shutdown of manufacturing facilities, overstocked supplier inventories, disruptions in logistics, conservative consumer spending and etc. is causing a huge strain on the finances and cash flows of many ecommerce stores in India. Now each retailer's ability to survive this crisis mainly depends on how quickly they can alter their business strategy and supply chain in order to accommodate the consumer's evolving needs.
Fortunately, the governments all over the globe has taken major steps to help such ecommerce stores, and have created programs to help them survive during these turbulent times. Ecommerce web development companies in India are helping organizations to upgrade the sites and take advantage of the changing shopping behavior of the customers. In order to help you manage your finances better, we have prepared a list of top recommendations that can help you to be better prepared.
Keep Your Financials Up to Date and List the Possible Business Impacts:
In order to understand your present financial state of your business, you can hire ecommerce development services in India. that can analyze your site and identity the best possible actions to keep your business afloat. It is crucial to update your financial statements like profitability, liquidity, efficiency ratios, and understand the total financial impact and prepare a sheet.
Such analysis will help you to understand the drop in traffic, services that you are unable to provide during COVID-19, key suppliers who are unable to offer products and etc. Once the sheet is prepared, you can revisit the budget and consider the shortfalls impacts on your cash flows.
How You can Inject Cash Flow into Your Ecommerce Business?
Offer Gift Cards: Gift cards often provide the retailers with an instant infusion of cash and ensures that the customers will return to their business in the future. Offering gift cards can help your ecommerce business to stay afloat until the crisis passes by.
Create a Pre-Order Strategy: Customers can understand that it is really a challenging time for the local retailers too and one approach that can prove to be beneficial is to pre order the popular products either by paying an advanced deposit or full amount.
Offer Discounts in Underperforming Stock: There are many non-essential products that have seen a huge decline in demand. You can easily categorize them and ensure that they are not stocking up and eating up your cash. To bring them in flow, you can offer some discounts on such deadstock inventories.
Also Read: What to Consider Before Creating a Perfect Newsletter for Your Magento Store
Pause Any Standing Orders with Your Suppliers:
Based on the current demands of products, and the type of business that you run, some retailers may slow down the production to avoid being stuck with their inventory which they can't move. In case this applies to you, then rethink about any standing order for material from such suppliers and also press a pause on any auto replenishing algorithms.
You can ask your Ecommerce development company to reset such algorithms until you know more. This will help you to push back any future payments and help you manage your finances better.
Identify Alternate Revenue Streams:
The covid-19 pandemic has affected various ecommerce brands, but instead of simply sitting and watching, you can identify all your alternate revenue channels so that your business doesn't see the slowdown and also supports the community in various means during tough times. You can expand your business in different areas where you see low or medium levels of disruptions.
Once the situation improves, you can easily capture a big market and expand your sales to those locations.
Also Read: What to Consider Before Creating a Perfect Newsletter for Your Magento Store