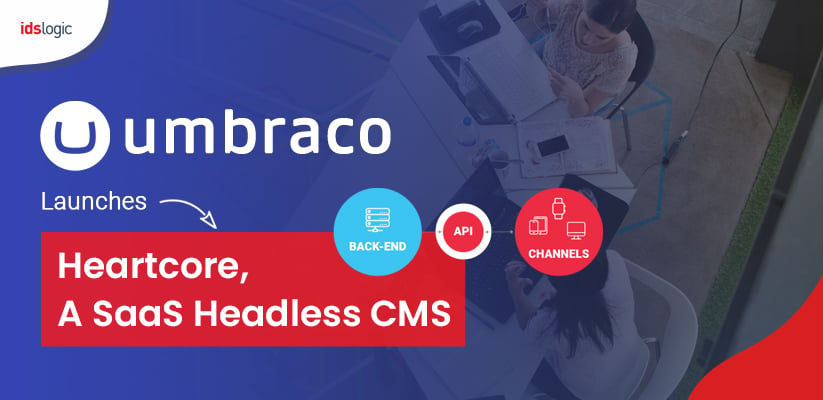 Umbraco Launches Heartcore, a SaaS Headless CMS
Umbraco is a popular Content management system and it comes with rich features to develop websites. A few months back Umbraco launched Heartcore, which is a software as a service (SaaS) headless CMS that helps to share web content across multiple platforms, channels and devices. The SDKs or software development kits allow the application developers use the language and platform of their choice and now the Umbraco developers can easily create configurable content management infrastructure for any smart phone, website, smartwatch or Internet of things IoT device. 
Umbraco Heartcore:
This is developed on the flexible, full featured and user friendly open source Umbraco CMS which is mature and comes with powerful capabilities to handle large volumes of web content for big organizations. With Umbraco Heartcore, it is easier to future proof and offer content creation across a wide range of devices.  Since more than half a million of websites are powered by the Umbraco CMS development, so to help the companies spread their digital footprint and reach out to audiences through new devices and channels, Heartcore is developed as a platform of choice for new and longtime Umbraco users.
Why Go Headless?
Headless architecture is defined as a backend only CMS, which is built from the ground as a content repository that makes content accessible via the Restful API in order to display it on any device. Headless comes from the concept of chopping the head and it is due to this approach that its only focus in on storing and delivering structured content.
Using a headless CMS offers you the freedom to create a frontend framework which is easier, faster and much more flexible. With a headless CMS you can easily pick your own programming language and the developers can create the way they are used without following any proprietary development constrains. It also allows easy and secured integrations with any of your existing systems and it allows the Umbraco experts to create any code for any type of integration.
Traditional CMS platforms are good for managing content on a single website, but with the headless architecture, Umbraco development companies can create and maintain multiple digital platforms together with synchronous content updates.
What Umbraco Heartcore Offers?
Umbraco heartcore allows the editors to create a web content structure that is easy to manage, update and find large amounts of content. The content can be made easily available for streaming services, ad campaigns, websites or any other context.
It offers immense flexibility while integrating new delivery formats and introducing any new or advanced mobile feature or functionality for an application

It comes with enhanced security for the user management and ensures that each user has access to only relevant and permitted areas according to their profile.

It helps to reduce the development time, deployment and also conduct user testing to get the content faster before the customers.

Helps to boost the overall performance while deploying any information to the end users

The Umbraco Cloud helps to upgrade any immediate software and API.
SDKs Make Umbraco Heartcore Accessible for Any Platform and Developer:
Besides all the features that are mentioned above, Umbraco Heartcore offers SDKs that helps the developers to use their own chosen language and create applications. the SDKs for .NET core and NodeJS are available and it makes it easy to start with JavaScript and C#.  If the developers want to use it with any other language or want to create their own client library, then they need to use the full RESTful APIs and create and consume the Umbraco content.
Also Read: Is Umbraco CMS A Good Choice for Your Ecommerce Website