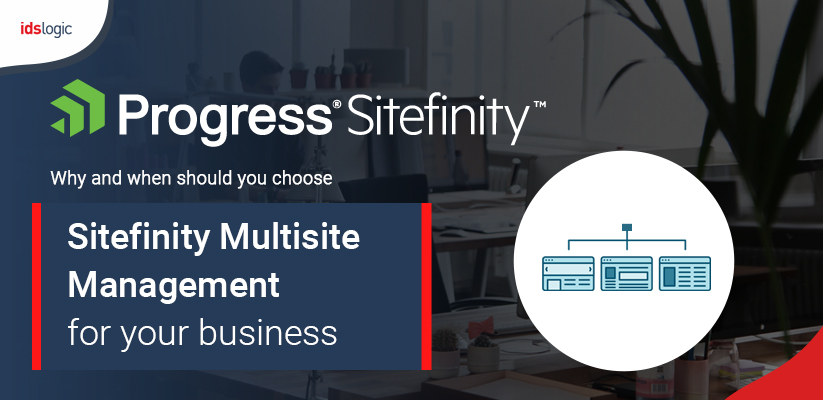 Why and When Should You Choose Sitefinity Multisite Management for Your Business
Most enterprises today are looking to target a wider audience based for different product lines and a multisite architecture is a great option. However, the challenges that are associated with multisite management can be overwhelming. From managing the different web content to various technology stacks and increased costs are the most dreaded of all. Businesses operating tens or hundreds of websites are facing with web development, IT related and other strategy complexities.
So, while shifting to a multi-site management, CMS is the best solution and Sitefinity comes up with a wide range of features for the users. Whether it is a multinational company having a distributed sales team or a conglomeration supporting numerous brands, shifting to Sitefinity multisite management platform can do the trick.
Who Requires a Multisite Platform?
It is really surprising to see the growing number of websites in the internet and its increasing user base has forced the business sectors to look for means to grapple with the needs of the users. There are various organizations that are in dire need of multiple websites:
The higher education industry: It needs to allow the teachers and administrators, cater to the needs of the students through separate website.
The media and entertainment industry: Since they publish, and manage reports in their own news columns, publishing content on the go is required.
Public and Government sectors: They can have multiple websites to cope up with their diverse needs and to have a flourishing online presence.
Non-governmental organizations: Working on different social causes can require dedicated websites to function properly.
What is a Multisite Management Strategy?
A multisite management strategy consists of managing a number of websites from a single dashboard and it allows the users to create individual sites that have its own defined set of features, modules and databases. With Sitefinity multisite license, you can easily implement a successful strategy that can help businesses to differentiate their brands and also enter new markets and increase the market share. Not only this, you can also develop a competitive advantage and stay ahead in the market.
Also Read: Why You Should Choose Sitefinity Cloud CMS for Your Business
Sitefinity multisite helps to introduce a new line of products that help to scale your business at an international level. A solid multisite strategy helps brands to launch in specific regions and markets and attract the locals to purchase their products and services.
How Sitefinity Multisite Management can Help Your Business?
Optimize for Maintenance:
With Sitefinity multisite, you can easily have multiple sites hosted within the same application while having the same codebase. This boosts the deployment tasks as it decreases the deployment destinations within a single MSM instance.  Again organizations can also enjoy rapid upgrades in MSM setups and whenever there is a new Sitefinity version, you can easily reduce your working hours needed in upgrading and testing. A single point of upgrade helps to keep all projects on the same version with the latest security, feature and performance improvements.
Quick Delivery of Sites:
Sitefinity multisite management allows organizations to share ecosystem that offers facilities for a very rapid process of rolling out new sites. It is with the click of a button that you can create a new site that are based on the existing sites.  It is during this process, that you can turn the specific module on and off on a shared basis and this reduces the hours needed to roll out the sites and also removes a lot of redundant infrastructure.
Highly Optimized for Content Delivery and Authoring:
Organizations can give their team a single interface to manage multiple sites, offering a great means to pivot between them and also manage the content from a single location. Organizations can share assets across various sites and use them to launch new sites and pages fast and without any hassles of establishing new projects. With Sitefinity multisite management you can easily share the content across various sites with a single click and publish news, events and product listing.
Also Read: Sitefinity CMS: The Perfect Website and Digital Marketing Platform