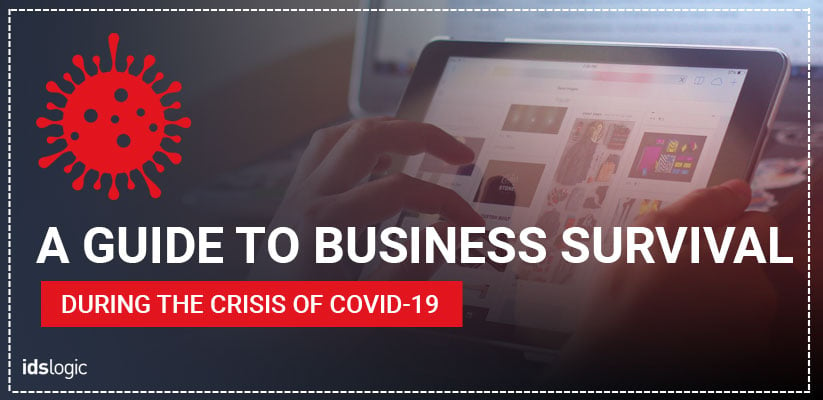 A Guide to Business Survival During the Crisis of COVID-19
The COVID-19 has affected the entire world and has turned into a global crisis. Various industries and companies are grappling with its impact as both the manufacturing and supply chain operations are disrupted and the customers are facing challenges to get the products delivered. Irrespective of the fact that whether your business is a startup company or an established one, it is time to reconsider the business strategies and the way various operations function on a daily basis.
With nationwide lockdown followed by social distancing, businesses are experiencing major impacts no matter how established they are and the impact of the pandemic can prove to be more hard hitting in the coming future. This is mainly because of the low cash flow and a reduced margin of funds. Business across all the verticals have witnessed low revenues due to a hit in the sales, logistic and the supply chain.
No Revenues? No Hope?  But Your Business can Still Survive!
Even if you have not generated revenues on a regular basis from your business, you are not completely without hope. Your business can still survive the Covid-19 crisis and it can surely emerge as a business stronger than you had before the crisis. All you have to do is to re-plan your business strategies and follow some tips mentioned below:
Track the Expenses Against Your Revenues:
During this period of social distancing, it is crucial for all business owners to conduct a proper assessment of their variable and fixed expenses and their actual revenues. Maintaining a regular report of assessing the expenses will offer a clear picture of where your company stands and plan out your business strategies accordingly.
Also Read: COVID-19: What You should Actually Know About This Highly Contagious Disease
Even after the pandemic, companies can continue this process to keep themselves updated where the organization stands and this will surely give you an upper hand and be prepared of any unexpected downfalls.
Secure Your Investments:
Capital is what every business needs and for entrepreneurs, this is one of the most important questions that where should the capital come from in this kind of scenario. Many organizations may have enough funds to deploy for the coming years, but what about start-ups. Since investors may become more vigilant and take more time to make funding decisions, you can start to approach your existing investors for additional funds to keep your business running during the Covid-19 crisis.
Your existing investors are more likely to help you since they are already aware of your business model and how it works.
Plan Policies for the Coming 10 Months:
Since it is really difficult to gauge the situation of lockdown, so it is important to be prepared for all kinds of scenarios. If we consider only 2 or 3 months, then any change in the lockdown decision can affect your business. So it's better to stay prepared for the coming year. For this, you will have to reconfigure the business strategy to reduce your variable expenses, re-negotiate the fixed expenses and focus on the crucial essentials for survival.
Analyze if you can cut back on the marketing costs. Your business will need to strategize, communication and then act accordingly.
Maintain Transparency:
Customers are core to every business as without them a business can never exist. Since the pandemic is a global problem and your customers may face issues in the delivery of the products or any other issues it is better to stay transparent and let them know how you are operating. Communicating everything very clearly will help your customers to better understand the situation and cooperate with you.
Keep Your Team Engaged:
As a business organization, your employees rely on you to guide them through this time of crisis and it is the responsibility to ensure that the team is engaged and productivity is maintained. Since the lockdown is really frustrating, it may take a toll on the mental health of some of the employees. It is time for you to assure them and also accommodate their needs so that they can bounce back once your organization starts. 
Also Read: COVID-19: How Technology Will Build a New World after the COVID-19 Pandemic Is Over
Keeping their morale high is of utmost importance. So, stay connected and collaborate with them digitally through various applications like Skype, Zoom, Slack and etc.
Don't Trim Strategies a Little Bit Every Week, Make It at One Go:
Don't be in a situation where you have to trim your expenditures every week, since the crisis will not end really quickly, it is better to make the changes at once so that you will be able to handle everything in a better manner. Reducing your expenditure and making fresh strategies every week will be time consuming.
It is better to do a complete redesign of your business as soon as possible so that you can gain the strength and run your business efficiently in the coming days.