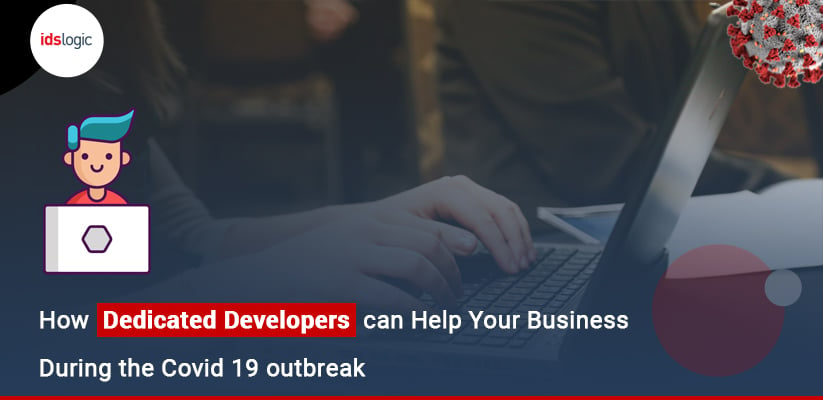 How Dedicated Developers can Help Your Business During the Covid-19 Outbreak
Digitization has taken an edge over the world and the software and app development environment is also becoming increasingly complex and it is difficult to please the clients by adopting an ordinary development approach. And with the covid-19 lockdown period, it has become all the more important to create a website so that it can reach out to customers anywhere and anytime.
Hit by the coronavirus pandemic followed by a nationwide lockdown and social distancing, businesses are experiencing major impacts no matter how established they are. They need to re-look at implementing new features that can help them operate their business, including re-visitation of their business plan. Software developers are mobilizing around the covid-19 outbreak to create new ways of dealing with the crisis and hiring dedicated developers during this phase is the best option to get a project done within a specified period of time.
Dedicated Developers are Now Working from Home:
If you have plans to start your next big web development project, then you may be planning to leverage outsourcing services to fill the gaps. Partnering with a dedicated development company helps to access talented resources easily and save a lot of crucial time
Why You Need a Dedicated Development Team During Covid-19 Outbreak?
Painless Project Management:
One of the biggest problems during this coronavirus pandemic is managing the development projects and if the management is not right, then your application won't be created successfully and things will not go planned resulting to huge dissatisfaction. Dedicated developers are not only good with writing codes and programs, but they also know what the client's needs are and offers a greater control over a project. As a business owner, you can have an easy access to the project and know the progress and give your inputs as well. Hiring dedicated developers means you get to enjoy transparency, flexibility and security.
Quick Response to Urgent Situations:
With app and web development projects, you are always prone to facing complexities. If there is any critical issue during the development stage just short of the deadline, then you have to compromise on the whole project timeline. It is here that dedicated developers can easily handle such a situation with ease and they also know how to approach the errors so that it won't hinder the whole development process. You don't have to waste time to get the issues resolved and the development team can also assist you with essential tools and with 24/7 support services.
Also Read: Things You Should Know About Effective Dedicated Hiring Process
Speed to Market:
This is another most important factor that you need to consider right now. Reaching out the market faster also means capturing the market and this will help your business grow. The dedicated web developers are known to create high quality software and apps that lead to improved business agility. Once you partner with them, they will boost your ability to work under competitive pressure and ensure that the project holds a top place in the market.
Cost Efficiency:
With a dedicated resource working on your project, you don't have to worry about anything and they can help you find solutions that can save your money too. The developers will work only on your project and this will not only save time and ensure high quality, but will also reduce the overall cost of developing the project.  Additionally, dedicated developers are also equipped with the latest development tools, which they can use in your project as per the demand without you having to purchase anything.
Also Read: Hiring Dedicated Developers? Know When is the Right Time to Take this Decision