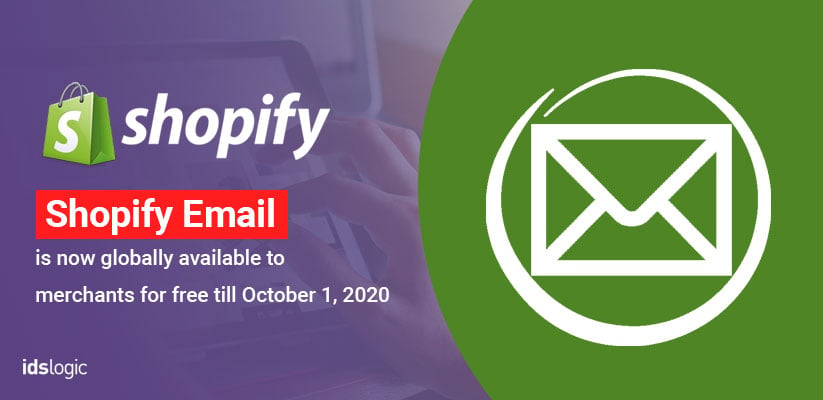 Shopify Email is Now Globally Available to Merchants for Free Till October 1, 2020
Shopify is a popular ecommerce platform and online business owners choose it to create their websites that are feature rich, scalable and easy to maintain. Last year Shopify had released its Email feature to only a selected group of invited merchants. This new marketing tool helped online merchants to create great customer relationships.
Recently Shopify has announced that it has released its Shopify Email for all the merchants and has made it completely free to use till 1st October, 2020. It is during this period of Covid-19 pandemic and uncertainly that Shopify has their concern for the importance of communication and email marketing, which are lifelines for the countless businesses that would help them to reach out to customers and build trust.
With Shopify Email, you can now easily stay connected with your customers through email marketing even during the lockdown and social distancing continuing across the globe. From templates to tracking the email allows you to use tools that can help to build a lasting customer relationship.
With all other marketing campaigns, you can now use Shopify emails and make it easy to manage, setup and maintain the campaigns without having any previous marketing experience. It is the only channel that allows you to fully own the relationship and build a solid trust with the customers and other potential buyers and also use the smart templates, tools and pre built sections, which means that it doesn't need any designing experience too.
Also Read: How 3D Modelling and Video Support can Help Shopify Merchants Boost Conversions
With Shopify development, you can now use the Shopify Email for free, which can be a direct extension of your online store. The smart templates will automatically use your e-stores colors, logo and products and help you save time and also maintain unique branding. Customizing the templates is easy for the admins and the templates are easy starting points to reach out to your customers across the globe with store updates and timely messages or any other special promotion messages.
The Advantages of Using Shopify Email Feature:
The biggest advantage of email marketing is that it will allow you to acquire customers and give you the best chance of engaging. You will be able to use it to drive sales and also nurture the ongoing relationship. Here are some other benefits:
Send the Right Message to Your Target Audience:
With the Shopify email marketing tool, you will have the ability to segment your existing audience and this will let you easily tailor your messages according to their choice and preferences. 56% of the customers say that they don't open their emails until it is too specific. This tool will help you take the engagement to a new level.
Also Read: Is Shopify Plus the Best Ecommerce Platform for Your Enterprise
Personalized Emails Make the Customers Feel Special:
Emails help to deliver company or business information and those that are personalized makes the viewers feel that the business care about their audience and is a professional one. The majority of the buyers who receives emails offering discounts and notifications about new products feel connected and this helps to boost sales.
Complete Control on Your Email:
With the email list before you, you can be sure that it is not exposed to any unexpected changes from any third party algorithms.  During uncertain times like Covid-19, your email is a secured way to reach out to your customers and this is also the best time to focus on email marketing campaigns.