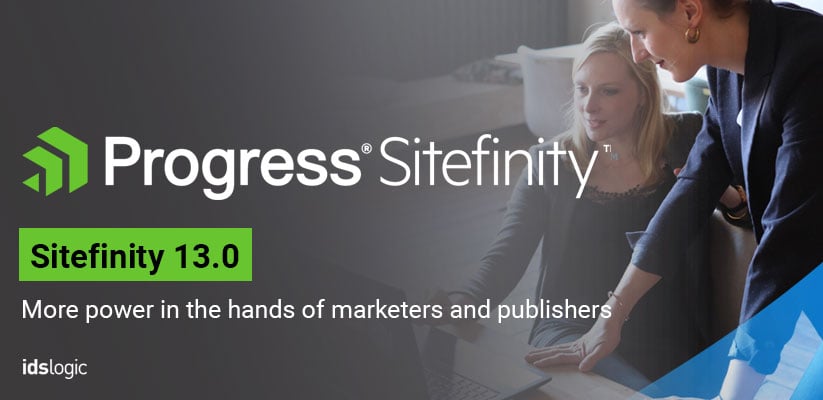 Sitefinity 13.0: More Power in the Hands of Marketers and Publishers
Sitefinity, a leading content management system has come up with regular updates to support the marketers and publishers with powerful features so that they can support their business continuity. On May 18th 2020 Progress Sitefinity once again announced the release of the Sitefinity 13 version, which introduces powerful capabilities for creating a personalized digital experience for the users based on data driven insight and cognitive technology. 
The latest version is believed to help the marketing team and the IT team to become more productive and it will also help organizations to accelerate the digital transformation efforts and enhance the operational efficiency.
The current global scenario stemming from unprecedented events has forced business organizations to switch to technologies in order to connect with their partners, employees and customers. Companies that previously relied on live events or physical stores now have to accelerate their digital transformation priorities.
It is the ability to deliver seamless experiences and to meet unexpected demands, extend the web content across multi-channel touchpoint, optimize the customer journey using data from varied sources and generate business value, is what makes a business successful in today's unpredictable business world.
And to support these, Sitefinity CMS has come up with its new version Sitefinity 13 that addresses all the challenges that businesses are facing now.
What's New in Sitefinity 13.0
Reinvented Digital Asset Management:
The Images module and how it uses the new interface is redesigned and it retains most of the functionalities, but has come up with a number of new features and improvements that include:
The new Timeline view to browse the images by date

Better preview options and larger thumbnails to select the best and suitable image

Improved filtering and search features that work in all folders and libraries.
Better Classification Management:
The Classification module now uses the new interface. The module retains what was there previously and now it adds a variety of new options. You can now benefit from the simplified UI for managing a large number of tagged items and it also has a new merge and move capabilities. Working with large numbers is now much easier with the ability to sort most or least used, as well as by using filtering tags by letters.
Also Read: How Sitefinity Has Effectively Evolved To Meet the Changing Face of CMS
Redesigned Personalization Setup with User Segments:
Sitefinity personalization feature allows marketers to segment their audience and deliver content as per their preferences. In this version, the dialogs to create user segment has been improved and streamlined and all the characteristics are now grouped in categories that come in a single drop down. Session based personalization based on Visit duration, Landing URL, Visited pages have been redesigned for better accuracy and performance.
Indication when Content has been Synced:
The SiteSync feature has been enhanced to enable more flexible use by the editors and a new capability to sync the content directly from the page / content edit screen is also used. With this new Sitefinity 13 release, an additional column for the revision histories of pages and the content items that shows a specific page or content has been promoted.
Simple Connection Setup between Sitefinity Insight and Sitefinity CMS:
The setup to connect a Sitefinity CMS website to the Sitefinity Insight for tracking has also been simplified. The specifics of the connection are now present in the Sitefinity Insight Access key, which is generated from the Sitefinity Insight account and Sitefinity CMS automatically selects the correct hosting location of Sitefinity Insight, this prevents any error connection to the wrong hosting location.
Easy Way to Retrieve an Access Token from the Sitefinity Insight Connector:
The way you authorize the custom code to use Sitefinity Insight API is also simplified. The API and the Sitefinity Insight connector can now take care of the token expiration, renewal and caching automatically.
Also Read: How Sitefinity AMPs can Help to Increase Organic Traffic to Your Site