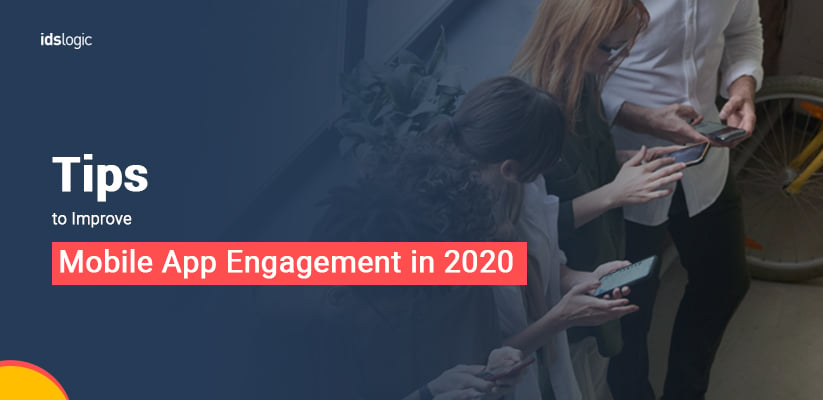 Tips to Improve Mobile App Engagement in 2020
Creating an iOS or Android mobile app that is engaging takes more than just an interesting idea. Reports have stated that about 60% of the users disappear within the first month after they try a new app and it is only that 20% makes it to the end of the third month. Brands are spending huge amounts of money to acquire the users, but mobile app engagement and mobile app retention are two most important metrics that offer genuine insight into the success of an application.
Low engagement is surely a recipe for failure and so mobile app development companies in India should consider app engagement and create a right strategy to be successful in the market.
What Do You Mean by Mobile App Engagement?
User engagement means keeping the users hooked to the iOS mobile app and interact with it. Engagement is an indicator and it is basically a process that helps to start building relationships and interaction with the users, capture their attention, increase their loyalty and also increase the number of downloads. If you have lost a specific number of users, then it time to re-engage them and make some changes in your app.
Here in this blog I will share with you some of the most important user engagement tips for your mobile app:
Create a Comfortable Onboarding Process:
The onboarding process in the process that actually gets your users into and using your application. The most common mistake is using the onboarding experience to teach the people on how to create an app. It is highly important to make the people feel comfortable when they adapt the app as it will reduce the abandonment rate.
Make the registration process simple and clutter free

Reduce the number of unnecessary steps to create an account or sign up

Teach through action and reveal the primary gestures in the Android app experience
Give Users Personalized Experience In Your Mobile App:
Personalization is a great means to give your users a new level of experience where the users can get interesting news or information according to their preferences.  In order to offer personalized information, you can ask your mobile app development company to integrate some analytics tools and based on the results of your customer behavior you can categorize your visitors.
Mobile personalization is an important factor to consider and there is a higher probability that they will use your app and will also further recommend it.
Also Read: Important Factors to Consider While Developing a Healthcare Android Mobile App
Use Push Notifications:
Push notifications are very important for mobile app development and they can increase the user retention significantly. If the users receive notifications regularly, their application engagement still surely remain much higher. The main purpose of push notification is to remind the users about any important changes in the app or any event and that your application is active.
You can customize the push notifications and you can then send them notification about any discount or sales. This helps to make improvements in the user engagement of your app.
Make Speed an Important Feature of Your App:
Customers are now more demanding than before and more and more retailers are entering the market competition. People want everything just with a tap of a button and if any website takes a lot of time to load than they may switch over to another site. So talk about high speed as a feature and that everything behind the scenes is working perfectly well.
This means that the app is completely bug free and it means that the core features are fast and also reliable. 
Encourage a Two-Way Communication:
Consumers often want to build a relationship with a brand and they also want to feel valued and appreciated. Opening a line for two-way communication can be extremely important and it is only via this method that you can understand what your users exactly want from you. The messages help the mobile applications gather the feedback and also solve the customer problems quickly and improve the overall productivity over time.
Also Read:  4 Types of Mobile Apps Where React Native is the Best Fit