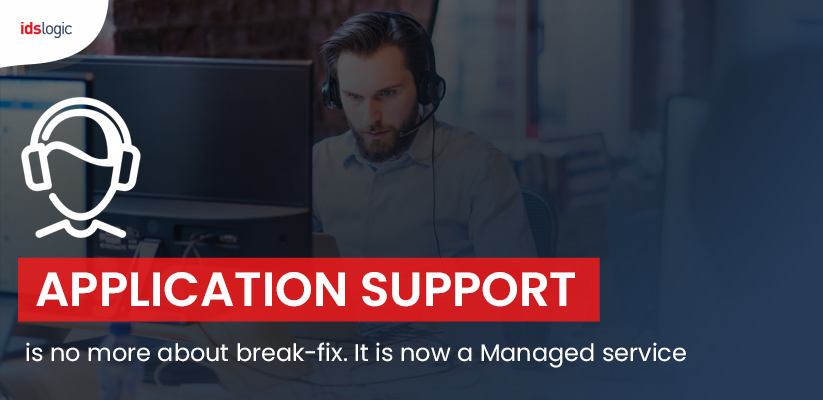 Application Support is no More About Break-Fix. It is Now a Managed Service
The trend in the IT service has changed a lot and it has in fact become stronger for both small and medium sized organizations. With a limited in house IT team, many businesses don't have the resource to keep up with their latest technologies while maintaining their legacy systems and networks. Today, many IT service providers have come up with dedicated teams who study about the latest developments closely to ensure that their clients and customers can easily leverage technology to increase their productivity and also reduce costly downtime.
Understanding Break / Fix Application Support Services:
The break / fix support definition means a reactive approach to maintaining the IT infrastructure and it is here that the organizations only engage with the engineers when a piece of the program or the system fails to work. Since their in-house IT team cannot locate the root cause of the problem within the system, they have to hire an external professional application support service provider to fix the issue.
The company offering such service will receive a payment for their services and such type of services need no monthly agreement and usually don't have any ongoing expense. There are some issues with this type of services which include:
Assuming the Errors is Difficult: 
We all know that prevention is better than cure, but it is very difficult to put a number of cost to the things that might break in the future.
Cost is Open Ended:
If the problem takes an hour to fix, then you will have to pay your IT service provider that amount, but if they take more then it may be a bit scary when you get the bill.
No Cure to the Underlying Problem: 
Your IT application support service provider will not fix the root cause of the problem as they will be under pressure to solve the error and fix it. And if the problem recurs again then they get a chance to bill you again.
Why Managed Services are Better for Application Support?
By managed services it means that you will have to hire a reliable and professional service provider who will offer you a list of well-defined services on an ongoing basis with a flat fee or a fixed rate. This often includes things like 24/7 monitoring servers, 24/7 help desk, backup and storage and etc. On site visits by the technicians may include some extra charges.
Also Read: Role of an Application Support Service Provider and How they can Help in Business Growth
The main difference between the two practices is that break fix is a customer driven service where there should be an initial service request for support while with Managed application service, IT professionals take a regular initiative to check the performance of the application. With managed service programs you get all of the service level agreement for a single predetermined price. 
Managed services plans are quite different and based on your budget, you can choose a specific plan to keep your IT issues at bay. The issues and discussions are based upon the network performance and predictability of the work that is to be performed to assist the client to maintain their productivity and performance. 
Again break fix plans are highly unpredictable for both the parties and since such plans are mostly related to emergency repair procedures, it can consume budgets at alarming rates. Managed Service application support services are designed to avoid this unpredictability for both the parties and are based upon periodic retainer rate that covers all the services and support which are listed in the agreement between both the parties.
So, if you are concerned about controlling your application support cost, then managed services are best for your system and help in achieving great results for the money spent.
Also Read: Effective Tips to Manage Application Support Services and Reduce Costs