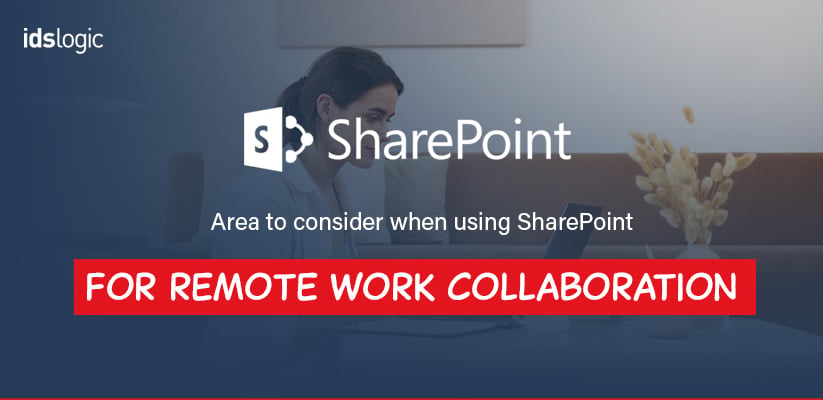 Area to Consider when Using SharePoint for Remote Work Collaboration
One of the major concerns of business organizations is the modern workplace where people are working remotely from various locations. With the internet, email, chat and cloud storage and video conferencing, it has become incredibly easy for the staffs to log in and get the work done from any location in the world.
Remote working is beneficial during Covid 19 pandemic as organizations need to adopt some best practices to reduce overheads, manage collaboration and gain an easy access to the wider pool of talent.
So, if you are adopting remote work for a long term using SharePoint intranet development, then you need to consider the additives of this quick digital transformation. Amidst the emergency situation, the focus of every business is to keep running and every organization has somehow arranged for minimalistic resources that can help support the teams and also the employees sustain. SharePoint is a great collaboration tool that helps to implement remote work in the long run.
So, here in this article let's consider the aspects that need to be taken care of.
Set Your goals and Business Policies:
Your business goals of any kind are integral parts of achievement and so the first thing that you need to consider is to define your goals and for that your system needs to be very strong and realistic for both the employees and organization. A well-defined work from home policy for your staff must be a place that is productive and the employees should also know their rights and policies beforehand. 
With SharePoint development, you can easily support flexibility of working hours and roles and implement to promote self-discipline to avoid any sort of conflict on the performance evaluation statistics.
Consider Efficient Collaboration:
The team collaboration has a direct impact on the overall productivity of the organization and SharePoint comes with great features that help the employers to focus on supporting the remote teams to collaborate and work together. For this, the employee engagement solutions should be chosen wisely and eliminate the challenges faced by most of the companies having employees remotely. The office building can become conference centers where confidential communication can take place.
Also Read: How to Create an Effective Content Strategy for SharePoint Intranet Portal
Facilitate Team Communication:
Another biggest challenge that organizations may face during Covid 19 is to build relationships and getting to know the teammates and their colleagues. This is much easier with SharePoint web development as it allows to keep everyone on the page in terms of project performance. For a quicker collaboration, the recent group chat tools like Microsoft Teams makes it very easy to get in touch with the colleagues and get the answer to their queries and share information.
Budget and Resources:
Another most important thing that needs to be considered are the budgets and resources to make sure that none of the employees not the employer has to compensate for the budget or any other essential resources. With SharePoint all the hardware and the software needs can be easily taken care of without having to spend any extra money.
SharePoint as a platform is also great for co-authoring as it allows many users to work on the same document and at the same time which is great when you are working remotely. The functionality helps to enhance collaboration that is important to retain when your team is remote.
Also Read: Setting Up Internal Communications Using SharePoint