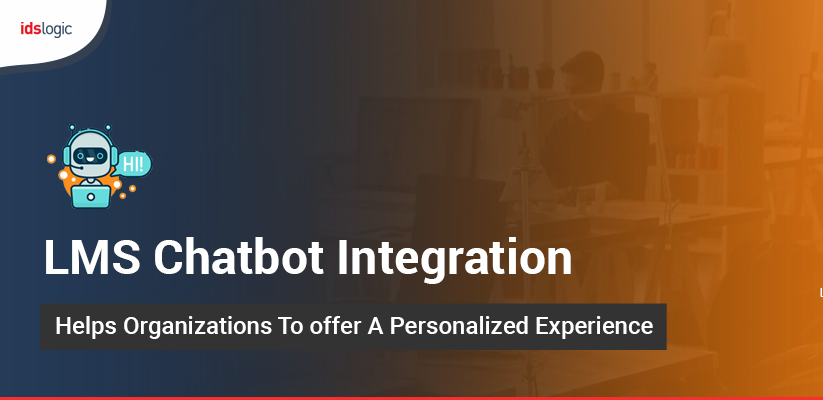 How LMS Chatbot Integration Helps Organizations to Offer a Personalized Experience
The covid-19 pandemic has forced academic organizations and many corporates to change the way they teach. With time, things have changed a lot and digital learning has evolved and is delivering content in personalized learning environments, online collaboration, gamified approach and etc. In fact, it has helped employees to interact with the educators irrespective of their location and time and it is here that Learning Management System has also evolved and has come up with a personal touch. 
Conversational chatbots are revolutionizing the way services are delivered and LMS chatbot for elearning is a great interface to a little part of the artificial intelligence. Chatbots incorporate AI tools in order to predict the user's concerns while they conduct their workouts. The core aim of LMS chatbot integration is to establish an automatic communication channel with the learners and offer them a firsthand attention and also help to speed up the process.
Talking specifically about LMS website development, the chatbot helps to feed on the relationship that is created with the learners and it understands their behavior and responds in an agile and accurate manner. LMS chatbot integration increases the mode of learning's ability to meet specific needs of the learners and maximize their learning experience.
A Few Specific and Strategic Ways Chatbots Help Change Learning for the Better:
Chatbots Guide the Learners in a Stimulated Environment:
Chatbots guide their learners and instruct throughout their entire learning journey and interact with them just as a teacher would do. They offer feedback to the learners and help them to overcome any hurdles in their learning process and assist them to gain their new skills easily and quickly.
LMS Chatbots Help to Impart Relevant Information:
Your LMS development company can easily integrate a chatbot tool with your LMS solution and this will help you to easily share information with your learners at regular intervals in response to various queries and triggers. This of course helps to make the entire process more interactive and enhances the mobile learning experience and prompts learning through an easy process.
LMS Chatbot Development Helps to Connect with Peers:
Chatbots offer great opportunities for the employees to connect with their peers and make learning a more collaborative, social, effective and productive process. Chatbots help to share knowledge, information and assignments or projects with others and do the work in a collaborative manner. This makes learning fun and easy and also makes it very interesting.
Also Read: How to Maintain the Quality of Your Moodle Courses During Coronavirus Lockdown
Offer Training and Reminders via Mobile Devices:
Chatbots are also a great means to send reminders to your learners and interact with them via their mobile devices. This helps to increase the rate at which, the employees can participate in the training. Sending reminders help them to attend their classes regularly and complete any related activities without any miss.
Personal and Learning Assistant:
With an LMS chatbot, users will now have a study partner with them and the chatbot can become the learners best friend in terms of study co-working and social learning. They can ask about course processes, LMS performance, features, grades, questions and etc. It also works as a personal assistant making the virtual training more comfortable and easier to surf by using the LMS platform.
With a wide range of tools and technologies available, LMS chatbot integration is easy and reliable and the bot features make the digital learning experience more personalized and effective.
Also Read: Why Branding and Customizing Your Moodle Mobile App is Important