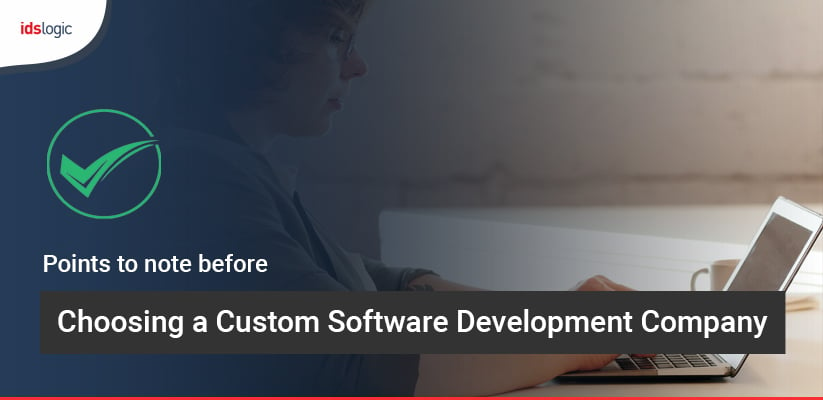 Points to Note Before Choosing a Custom Software Development Company
Every business owner wants a perfect site that is rich in features and can help them increase their online sales. But for this they need to hire experts in a specific technology that they have chosen and become a partner with the most reliable software development company.
Now there are two types of software available in the market. One that is ready to use with general features for all and the other is customized which includes specific features that the client needs. Such custom made software helps in business growth, develop and thrive in the competitive market. So before choosing a custom service provider, here is something that you need to identify.
Look for Good Outsourcing Companies:
Look for potential custom software development companies that can help you build your dream project. For this, you can search the internet, go for a personal reference or you can also be contacted by the vendor directly. A personal reference is a great means of getting vendor information and you too can find a reliable source. Googling vendors by using your technical keywords can help you to narrow down the search.
Visit Their Website:
Once you find the right partner, the next step is to check their website and at their portfolio and case studies.  Service providers usually include detailed descriptions of their previous work, technologies and functionalities that they are expert in. Their blog section will also help you understand the technology in a better manner as they share their skills there. Another section that you need to check is the client's testimonials that will give you an idea of the collaboration process and also the relationship with the previous partners.
Find Out About the Approach:
Custom software development companies must have a flexible approach and they should be able to design a project that can easily integrate with other products that are used by the business.  The company will have to change or update the software based on the client's changing preferences. There are two major approaches that are followed: Waterfall and Agile. So before choosing the company for your development task, it is worth checking the methodologies that they use and how flexible their approach is..
Also Read: Some Dos and Don'ts During Custom Software Development
Check their Competencies:
While hiring a custom software service provider, another most important thing that you need to know is about their competencies. There are many other capabilities that you need to check besides the technical skills include solutions architecture, user interface designer, project management, business analysis, testing skills and etc. Once you are sure about both their technical and other related skills, you can finalize your choice.
Contemplate the Price: 
Cost is usually another most important factor while choosing a bespoke software development company. Companies that offer too low cost should not be considered as they may not offer a very good quality, but at the same time you should not be overcharged also. So before finalizing, you need to consider the quality of the work as well as the cost of development so that both are maintained and are within your budget.
Policies and Security:
Your company may have sensitive data involved in the project, so consider the security that your partner would provide while developing your project. You should also check the copyright assignment and any terms and conditions which each side can terminate..
Also Read: Common Misbeliefs Related To Software Development Outsourcing