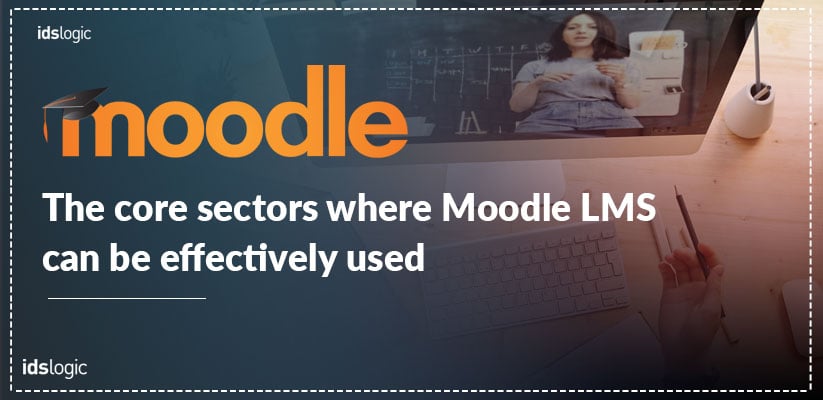 The Core Sectors Where Moodle LMS can be Effectively Used
Today more and more organizations are using Moodle for varied purposes and it has become an integral business tool for several companies. since the Moodle platform offers extraordinary flexibility, customizability and also a plethora of plugins that extend its functionality. This makes the LMS one of the best platforms for the developers and educators persistently and they are also putting their collaborative efforts to improve and enhance the LMS development platform.
This open source learning platform, Moodle is seen by many organization and the best LMS that helps them to easily manage and track their e-learning activities. Since Moodle is created by educators and for the educators, the core strength of the platform is its varied features which has let it to become the best virtual learning environment for education.
Today, Moodle has transitioned from the education to the business world and has become an integral business tool for companies ranging from healthcare, higher education, K12 Education and Non Profits.
Let's Explore How it is Used in Different Sectors:
Moodle's Use in Healthcare:
Moodle  development has seen its adoption not only in the corporate or education world but it has aslo gained much popularity in the healthcare sector. It us used in the hospitals and has helped many in the industry to increase the standard of their health care by offering the healthcare professionals with consistent training.
Today healthcare organizations are using blended learning techniques which is supported by Moodle and this helps to provide a holistic approach to the practitioner training. By blended learning, it is meant a perfect blend of carious training approaches that helps to attain tangible learning outcomes. Blended learning approach in the health care sector includes online learning, simulations, classroom learning and coaching and mentoring.
Also Read: 5 Reasons Why Training Organizations and Corporates Need an LMS Today
Moodle's Use in Non Profit Organizations:
We all know that Moodle is used by the healthcare, education, government and the corporate sectors, but not everyone is aware that it is also a great tool for non-profitable organizations.  Moodle is used to host their websites and also create online based training that allows learning anytime and anywhere. this enables the social community to form through which the users can easily interact, collaborate on work and also engage in discussions.
Moodle development company can also develop courses and cloud based delivery make it effective for non-profit associations. Moodle's easy course creation features have allowed many non profit organization to generate much revenues through their e learning programs. Moodle development also allows standardized curriculum and training and it is essential in any organization as it means that all the members are on the same page and there are no knowledge gaps between them.
Moodle for Higher Education:
Moodle offers a steady communication in higher education and it has various features like forums, messaging, comments, chats and also blog posts which are available for the students and teachers that helps to communicate from beyond the classroom. With Moodle, you can easily access as per your own convenience so that you don't miss any class because of some other engagements. Moodle also allows and encourages teamwork and collaboration and the communication features of Moodle allows the students to work together, share their ideas and also ask and answer the questions when needed.
Thus to conclude it can be said that Moodle is used by different organization to create learning plans, templates, set workflow priorities, and etc which can be easily monitored and accessed from anywhere.
Also Read: How LMS Chatbot Integration Helps Organizations to Offer a Personalized Experience