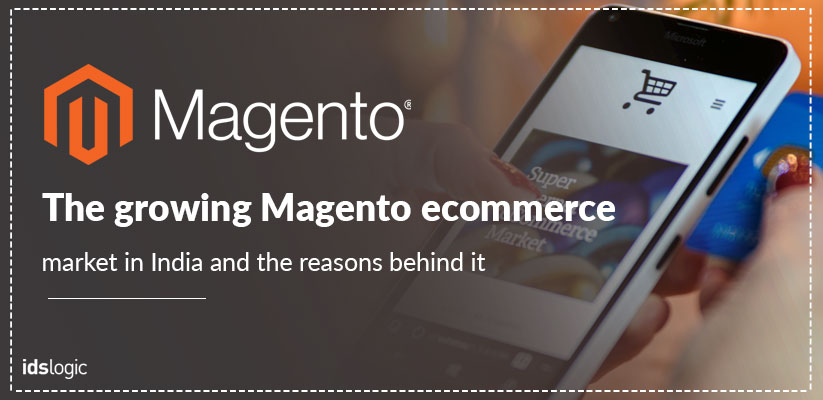 The Growing Magento Ecommerce Market in India and the Reasons Behind It
Ecommerce has changed the way business is done across the globe and it has also a great impact on the Indian market.  The Indian online ecommerce business sector is poised to grow close to $1.2 trillion by the year 2021. Besides all the regulatory challenges that surround the ecommerce sector in India, it is a segment, which is well equipped that helps to drive the next level of Indian consumer growth. It is stated that the ecommerce market will jump 3 time more from 2017 to about $84 billion by 2021 as there is a huge increase in the number of internet users and also a higher use of social media promotions and smartphones.
Magento is a popular ecommerce platform and with ecommerce having huge potential in India, Magento development too will see growth among ecommerce business owners.  As per Walmart, the total retail will grow by about 9% and the ecommerce market will grow by around 36%. 
What is the Reason Behind the Immense Growth of Magento Ecommerce?
Technology a Great Means, Which Led to Purchase Revolution:
Shopping has experienced a great change in India and with Magento ecommerce development sites, it is now a fun and leisure activity, which is enjoyed by family as well as friends. Today, it is digitally influenced and technology has also brought a great change that has led to the purchase revolution. The concept of shopping anywhere and anytime has given a boost to the ecommerce sector in India and it will see exponential growth in the coming years and will be the largest consumer base in the world.
Festive Season Plays a Role in India:
India is a land of diverse religion and faiths and all throughout the year there are some festivals going on. Be it Diwali, Holi, Durga puja, Christmas, people usually does a lot of online shopping from Magento ecommerce sites. The wedding season is also a great time for the retailers and because people hardly visit retail stores, online shopping is the best option. Magento ecommerce sites are now a preferred means of shopping.
Also Read: Here is Why Your Ecommerce Store Should Consider Upgrading to Magento 2 Development
Rise of Digital Wallets and Online Payments:
Digital India Campaigns and Demonetization have created wonders for Magento ecommerce and for safety and convenience, regular buyers are also parking a fixed amount of money in the mobile wallets like Mobiwik, BHIM, Ola Money and etc. for quick payments. Today, even banks have come up with their online wallets and there is also a growing awareness about using the net banking and credit and debit cards. In order to capitalize on the popularity, mobile wallets and banks are flooding the users with discount and cash back offers.
Make Use of the Untapped Power of Small Town Shoppers:
India has a huge population and with lots of people staying in the towns and villages, they too contribute around 41% of all online shoppers. With such a great share, there is a huge scope of capturing the consumer base for Magento ecommerce companies to hold ground. Many online ecommerce brands are launching digital campaigns to tap the power of rural India and has also partnered with small stores to offer services to such regions.
Indian Shoppers Love Discounts and Cash Backs:
No one can deny the fact that Indian shoppers find a sense of achievement if they can strike a hard bargain or even negotiate a big deal.  In India, online shopping thrives on discounts, deals and cask backs and as per statistics, India ranks as the highest user of coupons besides Brazil, Spain, Singapore. It is due to the growing access the smartphone that more than 62% of Indians are using coupons which are available on smartphones.
Also Read: Magento Extensions: Here Is Why You Should Invest