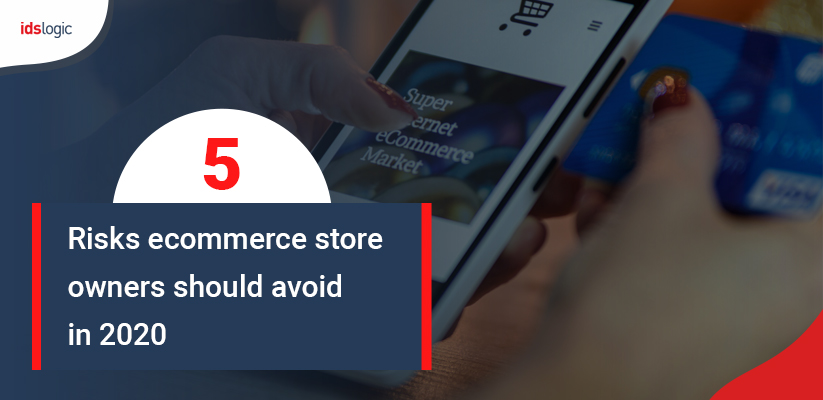 5 Risks Ecommerce Store Owners should Avoid in 2020
Those who are in the ecommerce industry are always concerned about their benchmarks, latest trends, budgets and etc. Unfortunately, they ignore a lot of risks that are highly crucial, interconnected with various operations and should be paid heed before it gets too late. Ecommerce business carries out a lot of transactions and also give a lot of exposure to a large audience base. Without following proper security tips and strategies to avoid the major risks, it is not possible to attain success though conventional retailing methods.
Some Inevitable Threats to Ecommerce to Avoid in 2020
Security Breach:
Ecommerce development is highly vulnerable to online security breaches and cybercrimes and the online security risks include phishing, unprotected website services and website hacking. So it is essential that your ecommerce web security is very strong. And to protect your business, you can ask your ecommerce developers to enforce additional layers of network security. The contact forms, sign up boxes and search queries need to be more secured and you can also initiate and end transactions with SSL certification.
Misuse of Intellectual Property:
This is another most common security threats of ecommerce business and protection of the IP is very important in the ecommerce industry, which includes website logos, content, products and images and icons and taglines. Some techniques that can be used to get rid of the risks include not copying the IP of any other company, offer training to employees regarding IP security, enforce the strong copyright rules, employ strict security policies and practices.
Poor SEO Practices:
SEO and Digital marketing of the business is very important for ecommerce business as with higher visibility, your sales will also increase. Since Google keeps on changing the algorithms, which drastically affects your ranking, having a low rank means low traffic to your site which ultimately results in low sales and revenues. In order to avoid this risk, you can hire professional SEO service providers so that they can take care of your website marketing and find the right keywords to promote the products, use some right tools for search and then make an effective social media strategy.
Also Read: Actionable SEO Tips for Your Opencart Ecommerce Store
Weak Authentication Methods:
A weak authentication method can make your ecommerce website development more prone to cyber-attacks and if you are authenticating a user by the ID and password, then chances are high that the information can be easily stolen. To avoid this risk, you need a strong authentication method for your online security and the best solution is to use a two factor or multifactor authentication method. It is also the best way to improve your online security and helps to add extra layers by asking for the verification code.
Client Disputes and Refunds:
Mostly in an ecommerce store there are times when disputes arise when the product doesn't arrive at the address and the amount has been charged from the customer.  Sometimes the customer also is charged twice or the product doesn't match the description. Fraud refunds can occur and there are some potential risks, which are associated with ecommerce business. These risks can be avoided by not charging the customer unless the items are delivered, by using a proper tracking number for each order and avoid shipping the wrong product.