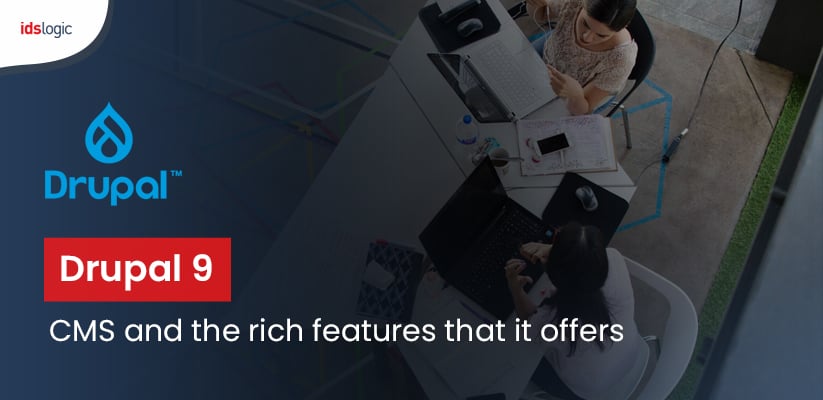 Drupal 9 CMS and the Rich Features that it Offers
If you are a business owner, then you must be aware of the importance of a CMS platform. There are many open source CMS that are already very popular for their high security standards, flexibility and Drupal development is one of them. Drupal CMS is a reliable, user centric and mobile design first CMS that offers a great visitor experience and the CMS has come up with new versions from time to time.
With the release of Drupal 9, it has come up with more usable, flexible, accessible, and scalable features than its previous versions of the platform. The standout feature of Drupal 9 development is its ability to offer an easy upgrade from Drupal 8. Unlike many other CMS platforms, Drupal doesn't reinvent the platform, instead its new version is created within Drupal 8 and it is very similar to the Drupal 8.9 release. This incremental approach of the CMS makes it easier to migrate to the latest version and things are easy to handle by the IT team.
The Latest Features of Drupal 9 CMS Platform:
Backward Compatible:
With the initial release of Drupal development, it was not in favour of preserving backward compatibility, but with the Drupal 9 release, this feature is considered and it can now use data, modules, and configurations with the previous version of the software and all the hard work regarding plugins and extension will be functioning like before.
Better and Faster Performance:
With more than half of the web traffic coming from mobile devices, Drupal has come up with the mobile first approach. Drupal 9 has taken it further by supporting responsive images for mobiles and displaying the best images while consuming very less data. The latest Drupal 9 also ships with a wide range of fields, including phone, email, date and time. Hiring a Drupal development company can help to easily enhance your web performance and stay ahead in the market competition.
Deprecations are Now Removed:
Another most important changes with the release of Drupal 9 is removing the support for deprecated codes in Drupal 8. By deprecated codes, it means that the code marked as deprecated will no longer have any support and should not be used by anyone. The reason behind the deprecated code is that a better alternative is now available and should be used as a replacement. This is actually done to do some cleanup work, which also means that any Drupal 8 module will now need to be updated or else it will stop working with Drupal 9.
Also Read: The Journey of Drupal from 1.0 To Drupal 8
Headless CMS: 
With only about 1% of the businesses delivering an excellent customer experience, it is important to offer meaningful content and a great CMS to deliver it so as to improve the customer experience. With many CMS available in the market, going headless is crucial. Drupal 9 comes with an API first approach that helps to build powerful front end of the site using JavaScript frameworks. The key features of Drupal headless CMS include:
front end freedom

API first approach

Create and publish from anywhere

Single source of truth.
Drupal 8 Modules will be Compatible with Drupal 9:
Whether it is a change or a new approach, this feature sets Drupal 9 CMS development apart from its predecessor and all the contributed modules will be completely compatible with the major release version. With almost half of the modules compatible with the latest release, the future is highly promising.
With Drupal 9 coming up with so many features, it is time for the organizations to contemplate their technology and migrate to the new platform to enjoy the best benefits.
Also Read: Why Drupal CMS is the Best Platform for Creating an Emergency Website During COVID-19