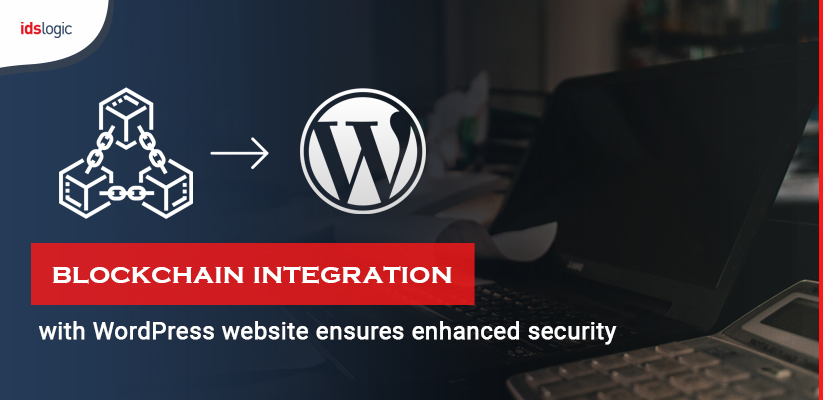 How Blockchain Integration with WordPress Website Ensures Enhanced Security
The topic of encryption is nothing new to the developers as it is an essential part of any strong security strategy. With latest technologies coming up and adopting the blockchain technique, WordPress is no exception as the developers are also using this encryption technology to power their websites. Blockchain is the most innovative technologies and it has found its use in almost all the business sectors. Irrespective of what the domain or industry is, it helps to establish a clear and transparent platform for data or information exchange.
Let's Understand in Details what Blockchain and WordPress are?
The blockchain is a distributed ledger technology that time stamps all the data exchange which takes place on the platform and any data which enters this ledger cannot be changed. The data is also stored chronologically and ensures easy traceability. The blockchain technology also ensures that the information is not stored at a central location, rather it is spread across the network. All the information is stored in blocks and if someone wants to change the data, then the hacker has to alter all the data, which is attached to it.
WordPress on the other hand is a popular CMS that is used to create websites. It comes with easy to use features and various plugins that makes it easy to use the platform. WordPress is also the most popular choice for those who are interested in creating an ecommerce development platform. It has an easy to use administration dashboard and is available in various languages and many other features that makes it the most preferred platform.
How Blockchain will Affect WordPress Development?
If you are looking forward to secure your data of your WordPress website development, then Blockchain technology is supposed to work best for you. It boosts the trust factor and eliminates the interference of intermediaries, thereby making the transaction easier and faster.
Also Read: Why Business Owners should Use Popup in Their WordPress Website
Global Acceptance:
If you have a WordPress ecommerce website, then you should know that there are some restrictions when it comes to payment from some locations. Having blockchain based bitcoin acceptance plugin will help in catering to a wider range of customers. It is only by integrating blockchain into your WordPress ecommerce site, that you will be able recipe international payments easily.
Data Security:
Another most important reasons why users prefer not to use online portals for purchase is the problem with data security. There is always a chance of data hacking and personal information misuse. But with blockchain, you will always have an answer to all these problems. With blockchain implementation, you can now really restrict all kinds of fraud activities as with blockchain, all the data gets encrypted on the public ledger network making it impossible to hack.
Identity Management:
With a WordPress website, you are always at online risks as it is the most widely used platforms across the globe and also the most targeted platform by cyber attackers. If your website holds sensitive data like the user's login, id, passwords, payment transaction information, web content and etc. and when the site is an ecommerce security becomes the first priority.  With Blockchain technology integration with WordPress web development, you can now give your users the best kind of security management.
Also Read: 5 WordPress CMS Secrets that Contribute to a Great User Experience