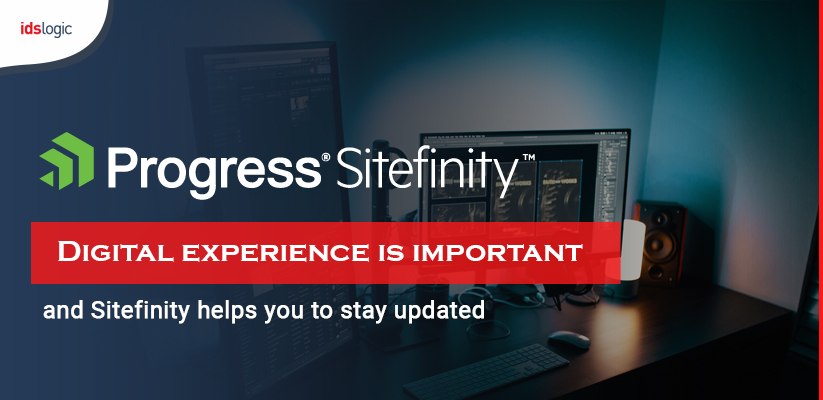 Digital Experience is Important and Sitefinity Helps You to Stay Updated
During Covid 19 outbreak, most businesses have to focus highly on offering the best user experience as they are switching to online stores to meet their daily needs.  A website that offers a great user experience and is easy to use will surely come up with increased sales and revenues. So it's important to take the time to understand your business and then identify the changing landscape and consider the needs of the consumers and the employees who are working from home by spending more and more time online.
With this increase in digital consumption and a big appetite for digital experiences, it is seen that Sitefinity CMS is the best platform to create fresh websites and also migrate the existing site to it as it comes with rich features that can help to stay updated and meet the changing needs of the customers. Sitefinity CMS development helps to manage the digital content of your site efficiently and with increased digital consumption and the appetite for great digital experience, it is now one of the most popular platforms that website owners are using.
So, if your company is not doing anything differently to engage and approach the market, then this is the time to invest in an improved digital experience, which holds multiple benefits for your company. Sitefinity website development delivers a good digital experience and almost three quarters of the customers move to a competitor who is better and Sitefinity comes with all the rich features to support them.
Some Ideas that can Help Your Business be Operational Today:
Set Up Your PPC Campaigns:
Increased eyes help to increase opportunities and with so many people at home during lockdown, boredom will ensue and this will of course result in an increased search. So choose your CMS wisely and Sitefinity CMS helps to double down on specific keywords and campaigns that has historically proven to get the conversions. Sitefinity supports PPC campaigns and ensures that you are visible.
Get Social:
Together with increase searching, customers are also expecting an increase of social activity. Not everything that you say should need to lead to a sale. But during the time of social distancing, you need to be there for your customers so that it shows them you care and you are also transparent. Connecting with your customers on an emotional level helps to keep your ties stronger and increases their loyalty.
Also Read: Is Sitefinity Cloud a Good Option for Busy Marketers
Transact Online: 
It is highly important to allow your customers to transact online in a safe and secured way. Sitefinity comes with rich security features and customers today can accept longer deliver times due to the present circumstances, but they want a secured site that offers a safe shopping experience. If you accept money for your product or services, then with Sitefinity CMS development, you can enhance the security of your site.
Virtualize Virtual:
Immersive technology helps to attract new customers and keep them excited and offer an engaging experience. In fact, as per research, nearly two third of the customers expect to use advanced technology during the experience.  Without subsidizing the virtualization with face to face interaction like onsite meetings, events and conferences, the digital experience must leave a lasting impression. Sitefinity delivers on this.
Also Read: Sitefinity 13.0: More Power in the Hands of Marketers and Publishers