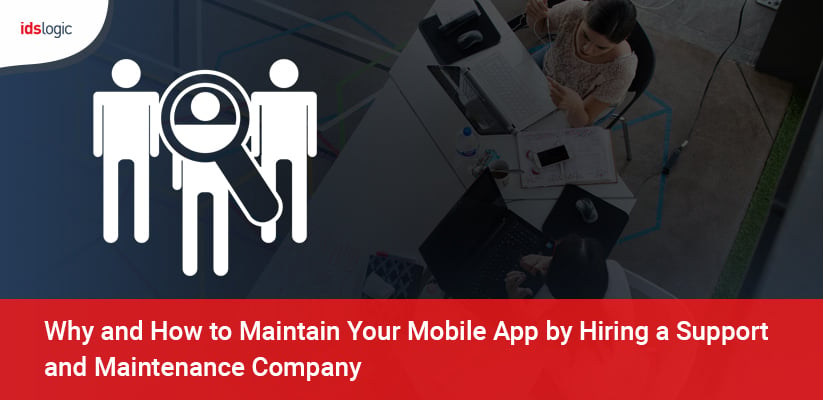 Why and How to Maintain Your Mobile App by Hiring a Support and Maintenance Company
It is after spending some months in the app development life cycle, now that your app is live on the app stores, it is time to keep the mobile app running with proper support and maintenance service. It is important to optimize your app store listing so that your app shows up at the top searches and gets more downloads. But what you should remember is that an app doesn't operate on the set and forget principle and it needs proper care to perform well.
Why should You Care for Your App Maintenance?
In case your app is designed for external purpose, then some of the variables will keep changing within a few months of the release date and if you don't consider the impact, your app's performance may become low.
Hardware:  As a new mobile device is released, there may be some features that may not work with old hardware as they were intended. Hiring a mobile app support and maintenance company may help to keep the app working.
Operating System: Every year there are updated in iOS and Android versions and the apps need to be updated so that they are compatible with the latest versions.
Styles and Designs:  The mobile UI follows a skeuomorphic design principle for Apple and Android before they adopted the material design. This means that all the apps had to update their user interfaces as well.
Security Bugs:  Another most important factor that needs consideration is the security of the app and with latest patches and updates, it is important to keep the app updated and fix any vulnerability.
How to Breakdown the Cost of Your Mobile App Maintenance?
Hosting Costs:
The application's backend will probably be hosted on the third party cloud server like Microsoft Azure or AWS and based on the number of users or consumption media, your hosting will cost and can go up to thousands of dollars every month. All these costs don't include the costs of creating and maintaining the backend, which can be really significant when your app scales up.
Also Read: Task that Your Website Maintenance and Support Service Provider Should Do
App Store Optimization: 
It is very important that your app is properly optimized for the search engines and also for the app store. Right from searching the keywords to A/B testing headlines and noting feedback, uploading screen shots / videos and running search ads, you will have to spend some regular time keeping up with your app store listing updated.
Monitoring the Crash Analytics:
You will also require some app analytics tool so that you can monitor the app usage patterns that will help you to improve the in-app experience. Your mobile app maintenance service provider can help you with such tools and send a crash report in real time. You will have to invest in some professional experts who will be responsible for setting up the user funnels and analyzing the raw data to gather business insights.
Licenses: 
There are many apps that will be built by using only licensed technologies and while some licenses can be bought for life, some others need to be renewed on a yearly basis. when setting the app maintenance budget, it is important to take licensing costs also into account and the best part is that if you have a support and maintenance company for your mobile app, then they can take care of such updates and keep your mobile app performing.
Also Read: Issues You Might Face If You Neglect Your Website Maintenance and Support Service